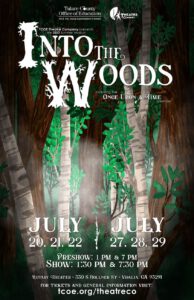 Eight performances July 20-29, Rotary Theatre, 330 S. Dollner St., Visalia CA
 On Thursday, July 20, the Theatre Company will premiere its production of the award-winning Broadway musical Into the Woods. The musical, with music and lyrics by Stephen Sondheim and book by James Lapine, intertwines the plots of several Brothers Grimm fairy tales, exploring the consequences of the characters' wishes and quests. The main characters are taken from "Little Red Riding Hood," "Jack and the Beanstalk," "Rapunzel," "Cinderella," and other stories.
The production will be performed in the newly renovated Rotary Theatre in Visalia. The 300-seat theater offers audiences a special connection to the cast of this enchanting show.
Evening shows will be offered July 20, 21, 22, 27, 28, and 29 beginning with a preshow at 7:00 p.m. A matinee show will be held Saturdays, July 22 and 29 – each beginning with a preshow at 1:00 p.m.
All ticket sales will be conducted online and shows are expected to sell out. A very limited number of tickets will be available at the door. Tickets are $17.00 for general admission and $10.00 for Tulare County students, grades 1-12, with a valid ID. To purchase tickets, visit tcoe.org/TheatreCo/Tickets.