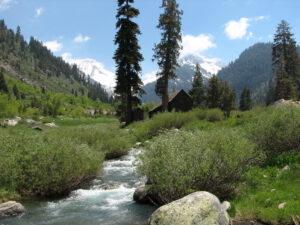 The Mineral King Preservation Society is dedicated to protecting and preserving the cultural and natural history of Mineral King and surrounding southern Sierra communities, and to educating the public about the historic and natural significance of these areas through programs and exhibits.
Picnic in the Park
For the past 37 years, minus 2020, the Mineral King Preservation Society has hosted our annual Picnic in the Park in Mineral King. Folks come out to hear a presentation related to Mineral King and the Southern Sierra region. Past presentations have been reenactments, tall tales, talks about the once proposed Disney ski resort, the KNP Complex fire and many more.
Unfortunately, due to road repair issues following the spring storms, there is currently no public access to Mineral King. Rather than cancel we have decided to host our event at Café 210 in Visalia. Our presenter, one of the best storytellers of Tulare County history, is Terry Ommen.
Terry will be doing a new presentation titled: Visalia's Close Connection to Mineral King.
"Visalia has had a long and interesting connection to Mineral King. Whether it was the beautiful alpine scenery, cool mountain air, or the dream of mineral riches, the beautiful Sierra hideaway has had a special lure for many from throughout the world, but especially for those calling the Tulare County seat home. Join us as we discover how and why Visalia, and some Visalians, grew so attached to this special place." – Terry Ommen
This event is free and open to the public, light refreshments will be served.
Join us at Cafe 210 on Saturday, July 15th at 1:00pm