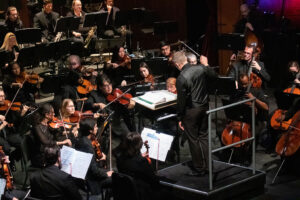 '"The Little Prince" is an opera for people who don't like opera.
That's what Sequoia Symphony music director Bruce Kiesling says about the opera that will kick off the orchestra's 2023-24 concert season on Saturday, June 24 at the Visalia Fox Theatre. It's an enchanting children's story, but one that appeals to all ages because it explores themes of love, identity, and loss.
The family-friendly opera is performed in conjunction with the University of California Santa Cruz Opera Program and members of the university orchestra. Bruce directs the UCSC orchestra and always collaborates on the university's year-end opera. Last year, he added members of the Sequoia Symphony to their orchestra to perform in Santa Cruz and then brought the entire company to Visalia to test the waters for an opera performance here. The experiment worked, and this year, the opera will open the symphony's season.
The opera, written by Rachel Portman, is based on the mysterious fable by Antoine de Saint-Exupéry about a pilot who crashes in the desert where he makes the acquaintance of a prince from a far-off planet. They come across strange and interesting creatures, including a fox and a slithering, mysterious snake. All the characters appear in fun costumes. The prince visits many different planets, each home to a very strange grown-up.
For more information and tickets, go to SequoiaSymphonyOrchestra.com or call 559-732-8600