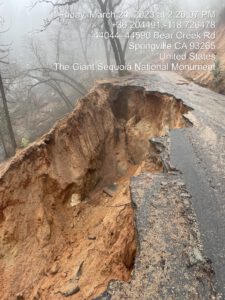 There is no public access beyond the locked gates on Bear Creek and Balch Park Roads due to unsafe road conditions.  This closure means there is no public access to Mountain Home State Demonstration Forest and Balch Park.
The closure applies to motor vehicles as well as pedestrians, cyclists, and the public in general. The closure will remain in effect for an undetermined period while crews assess damages and create a schedule for repairs.  Crews anticipate similar destruction which occurred on the lower portion of Bear Creek Road and now has a temporary repair.
Due to the temporary nature of the repairs, the motoring public is advised to refrain from using Bear Creek Road as the roadway is intended to provide access to CalFire personnel and residents in the area only.
Tulare County RMA reminds the public to adhere to road closure signs for their own safety and that of emergency personnel.