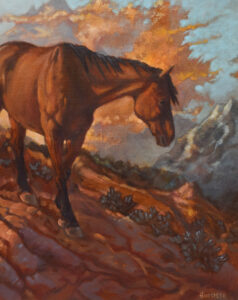 Lindsay Art Association is proud to announce the exhibition titled West of the Known consisting of paintings by local artists Brent Hudspeth and bronze sculptures from a private collection by the American artist Frederick Remington (October 4, 1861 – December 26, 1909) and curated by international artist, Shane Guffogg.
Even though these artists made their work over a century apart, they share a common inspiration, the horse and the American landscape.
Brent Hudspeth, "Remington painted and sculpted the horse as an element of the west. The horse was a part of the organic machinery of frontier life, but his art focused on the human experience. The horse was a part of the fabric in the presentation of their depiction of the American West. The intent of my work is not to show the horse as an element, fixture, or part of a whole statement. I am associating more with the implied personal state of mind of the horse as it relates to what we as humans may feel – triumph, jealousy, fear, lost love – right down to our core."
Brent Hudspeth's paintings are beautiful and haunting, familiar like a dream of watching a western on TV from childhood. There is a tranquil stillness that occupies these paintings.
Remington captured the spirit of a forgotten time, becoming famous in the late 1800s for his paintings, illustrations and sculptures of his romantic depictions of the American West.  Both artists capture fleeting moments, distilled through bronze and paint portraying ideas of a bygone era. There is an implied narrative in Brent's work that speaks to another time, Remington's time. Hudspeth's paintings show how the San Joaquin Valley looked in the age before this era of strip malls and parking lots. Remington and Hudspeth's works are visual poems that by their mere presence, are meant to slow us down to a time that was measured by the sun.
You are invited to join us for the opening reception, June 10th,  5 to 8 p.m. at the Lindsay Museum and Gallery located at 165 N. Gale Hill, Lindsay, CA. Refreshments will be served.
For more information please contact Trish Gutierrez at [email protected] or call (559)359-6393