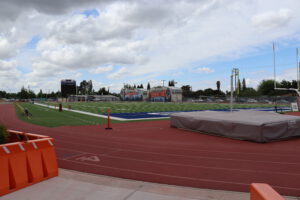 Years of planning for the improvements of Sequoia Stadium at the College of Sequoias (COS) have finally come to fruition. When complete the stadium will be able to accommodate the thousands of fans that come to watch COS football and track events.
Discussions became more serious during the pandemic, prompting a request to improve the track and field.
COS soccer and football events have historically been held at Riverway Sports Park or Mineral King Bowl. The need for a home stadium was evident as it would provide both sports teams a home field along with increasing inclusivity and community participation.
With the new stadium, graduation ceremonies could also be held on COS grounds.
According to Brent Davis, Dean of Physical Education/Athletic Director, there have been approximately 2000-2500 people showing up to the football and track events. The spectators would sit on temporary bleachers and lawn chairs. During the pandemic, discussions became more prevalent  A post from the COS Giants Football Twitter account says that the new seats could accommodate 2,800 while Davis said it can expand to fit approximately 3,750 fans.
Davis stressed a unique feature that makes the Sequoia Stadium stand out from others: the height and closeness to the track. The stadium seating will be located lower and closer to the track. Davis expressed how this would create an immersive experience for the audience, being closer to the action. This is due to the surrounding seating outlining the track and field.
According to the COS Visalia Track/Football Improvements Addendum there will be 1,200 seats East, 1,000 seats West, 800 seats North, and 500 seats on the South side. The main sacrifice that has been made is the removal of three tennis courts to accommodate some seating and additional construction.
Along with the Stadium a restroom, concession stand, and video board are being constructed. From the West and East ends of the field two pathways are being constructed offering easier access to the stadium and seating areas.
In the process there were a couple of setbacks. An updated EIR report had to be submitted and the heavy March rains delayed construction.
Back on track, Sequoia Stadium is set to be finished in early August.