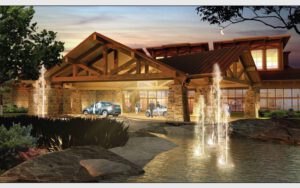 On May 9, 2023, Eagle Mountain Casino begins a new chapter and opens the doors to its new property, located at 1850 West Street, off Highway 65 next to the Porterville Fairgrounds in Porterville, CA.
Eagle Mountain Casino's story humbly began in June of 1996 when the casino opened its doors with a few mobile trailers, a hotdog and hamburger stand, three blackjack tables, and just over 300 video lottery terminals.
Over the next 27 years, Eagle Mountain Casino became "The People's Casino."
The Tule River Tribe, owners and operators of Eagle Mountain Casino, recently celebrated their 150th anniversary of sovereignty this past January. The opening of the new casino location will be another milestone in the tribe's storied history.
"On behalf of the Tule River Tribe, I want to congratulate the Eagle Mountain Casino team for their dedication and hard work. They are the backbone of our success. We are grateful for them and all our patrons that would drive the road to the reservation to go there and enjoy some of the best entertainment in our area," said Neil Peyron, Chairman of the Tule River Tribe.
Porterville City Manager John Lollis is excited about the relocation of Eagle Mountain Casino and says the Tule River Tribe and the City of Porterville are working together to build economic development, tourism, and branding effort for Porterville.
The highly anticipated new casino property will double in size, growing to over 100,000 square feet, featuring new dining options, 1,750 slot machines, 20 table games, and a 2,000-seat state-of-the-art event center.
The new property will employ over 1,000 team members and boost economic growth for the local community and businesses. Vendors selected to work with the new property have local ties, including Pacific West Sound, Innovative Lighting, Stafford's Chocolates, JR Meat Company, Visalia Tile, Stinson's Business Supplies, and many other local contractors. All other vendors selected to be involved with the design of the new property were carefully chosen as they aligned with the vision, the culture, and all essential tribal aspects.
HBG Design was selected as the designer and architect for Eagle Mountain Casino's highly anticipated casino relocation project and designed the new casino property with the vision of a lodge and a more mountainous style of architecture with a home in the Valley. The relocation also expands the gaming floor to 100,000 square feet of slot machines and table games. "For the Tule River Tribe, it was imperative to tell their story. We researched their culture; they provided us with books and photos of artifacts. They were open about sharing their culture, which allowed us to find patterns within baskets to incorporate into our design that would give this property a uniqueness in the market when you look at some of the other competitive casinos because it tells their story," said Joe Baruffaldi, AIA, Principal, HBG Design.
When the new property opens on May 9, it will be the first time Eagle Mountain Casino will serve alcohol. "We will have full cocktail service throughout the casino floor," said Bradford Hamilton, Food and Beverage Director at Eagle Mountain Casino. The new property will also feature a 2,000-seat state-of-the-art Event Center, 24-hour Acorn Diner, Cedar Food Court, Yokuts Coffee House, and the award-winning River Steakhouse. The Redwood Taphouse will feature 208 seats with 24 slot machines in the bar. In addition, 66 TVs will be visible throughout the whole restaurant. The Center Bar will wow guests with its exquisite details of a Sequoia Tree and will be featured in the center of the gaming floor with slot machines at the bar.
"Congratulations to the Tule River Tribe and the Eagle Mountain Casino team for opening our new property. We're happy to say that the new property is Tule River through and through, as there are artifacts and basket weaves throughout the property. This is truly Eagle Mountain Casino and the Tule River Tribe's accomplishment. We're happy to be able to tell you we are open for business, and we can't wait to see the smiles on your faces", said Matthew Mingrone, General Manager at Eagle Mountain Casino.
Eagle Mountain Casino's new location, "Grand Opening Celebration," will occur on May 9th, 2023. Eagle Mountain Casino's new property is located at 1850 West Street in Porterville, CA, off Highway 65, next to the Porterville Fairgrounds. For more information, go to www.eaglemtncasino.com or call 1-800-903-3353.