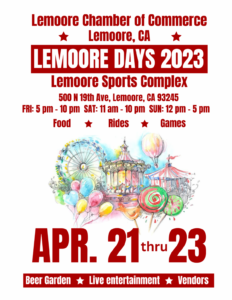 Get ready for an amazing weekend of fun and excitement at Lemoore Days! This Friday through Sunday, we're bringing you an exciting event filled with thrilling rides, live music, delicious food, and incredible shopping.
Join us on Friday from 5 p.m. to 10 p.m., Saturday from 12 p.m. to 10 p.m., and Sunday from 12 p.m. to 5 p.m. for an unforgettable experience!
The best part is, the event and musical entertainment are completely FREE for the public to enjoy! If you want to go on the amusement rides, it's just $35 for an all-day wristband. And don't forget about the amusement blow-ups and pony rides for an additional cost.
Our musical entertainment line-up is something you don't want to miss! On Friday, Saturday, and Sunday, from 7 p.m. to 10 p.m. and 2 p.m. to 5 p.m. respectively, some of the best musicians in the area will be performing live. It's the perfect way to dance, sing and have fun with your friends and family!
The event also features a fantastic variety of food and shopping. Treat yourself to mouth-watering bites and refreshments from our food vendors, or browse the stalls of our carefully curated vendors, offering unique and one-of-a-kind products.
For those 21 and over, make sure to stop by the Chamber Beer Garden, where you can enjoy cold brews on tap while taking in the festivities.
Don't miss out on this amazing weekend of fun, food, and music at Lemoore Days! For more information on food and shopping, check out our list below. We can't wait to see you there!