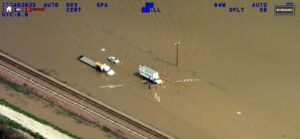 Millions of acre feet of water are about to melt in the Southern Sierra Nevada. The water – trillions of gallons of it – will travel down the four rivers that feed into the Tulare Lake Basin, bringing flooding to the area that hasn't been seen since the late '90s.
In fact, the amount of water heading to Tulare Lake is unprecedented, with an historic snowpack approaching or exceeding 300% of average. No one in Kings County seems exactly sure what to do with it. As the crisis looms, the fighting and finger-pointing are turning ugly.
Boswell Says It Knows Best
Tensions came to a head at an emergency meeting of the Kings County Board of Supervisors held Saturday, March 18. It was the third emergency meeting in as many days, but this one was different. It was held at the request of representatives of the JG Boswell Company, one of the largest landowners in Kings County, who wanted to convince authorities they know how to direct the inundating waters most effectively.
"In 98 years, the county supervisors have never got involved in telling the Boswell company or Corcoran where to put flood water," George Wurzel, president and COO for Boswell. "The county or the supervisors have never ever come down to poke a hole in a levee. We've always done that on our own."
At the previous meeting on March 17, the supervisors ordered the public works department to make a cut in one of Boswell's levees on the south end of Reclamation District 746. The cut was needed, they said, to prevent flooding in other areas of higher elevation. RD 746 contains the lowest point of the lake basin.
The order, which was eventually carried out, came after Boswell voluntarily flooded other areas of the lake bed to the south.
"That would be JG Boswell company farmland that was prepped to plant and to be put to good use," said Dominic Sween, an engineer for Boswell. "We preemptively decided to cut our first levee right between the Cross Creek at the Tule River canal, and we thought that that was the first step that we needed to take to relieve pressure in the system. It's one of the lower levees in the area, and we decided that was the first step that we needed to take to relieve pressure in the water system."
Historically, RD 746 has been the first area of the basin to be intentionally flooded because of its depth. The move to delay flooding there has been met with enormous criticism, and filling those areas – the El Rico and Cousins portions of the lake bottom – led to flooding of adjacent property not owned by Boswell. Boswell's neighbors said it was done intentionally to protect the farming giant's cropland and business offices at the expense of others.
Saving Corcoran a Priority
Richard Valle, chair of the Kings Supervisors and a resident of Corcoran, said the county's main concern is keeping the town from flooding.
"That information led the board to make a decision yesterday (March 17), that as we were being told the biggest threat to Kings County is to the city of Corcoran and the residents that live there, and we believe from the information that from public and closed session we made the best decision in the interests of Corcoran and obviously to save the city of Corcoran," Valle said, referring to the call to cut the levee on the south end of RD 746.
Earlier in the March 18 meeting, Sween said filling RD 746 would have put property in Corcoran at risk, but later recanted, admitting flooding that area presented no immediate threat to the city. Sween asserted filling the outlying areas of the lake basin would allow more water to be stored in total, an assertion rancher Erik Hansen called "ridiculous."
Cutting into RD 749, said Hansen, would have given those living and farming in now flooded areas more time to react. Hansen Ranches farms the area east of RD 746, and the property has been inundated. The flooding was the result of actions by Boswell's employees.
"Some people would have time to protect residences and permanent crops in an area that's never been flooded before," he said.
Hansen said other water experts contradict Sween's assertions, arguing a bucket can't be filled from its top down.
"Our people that we know, that are experts, that are afraid to be here today for obvious reasons, they dispute that," Hansen said. "They would have never flooded that area. It doesn't hold much water."
Wurzel defended his company's actions, saying no one had "cared more" about Corcoran than the Boswell family. He cited the large amounts of money the company has poured into the town. Many of its employees live in Corcoran, he said, and much of the company's inventory and infrastructure is kept there.
If Boswell representatives were highly concerned with protecting Corcoran, wondered Supervisor Valle, why weren't they in contact with city officials.
"You're saying you guys are doing a lot of work to save the city of Corcoran, to save the prisons, but you're not communicating with them," Valle told Wurzel. "You're not communicating with the city manager. You're not communicating with the prisons, and we know that because even on Monday (March 13), the prison was in a panic mode and was holding meetings to try to build their own what they called a super levee."
Wurzel said the administration at Corcoran State Prison has not returned his calls. He did not comment on a lack of communication with Corcoran City Hall.
Neighbors Say Boswell Flooded Them Intentionally
The area containing most of Hansen Ranches' property is south of Corcoran and east of the two areas first flooded by Boswell, the El Rico and Cousins areas. In the map Sween presented to the supervisors, the area is labeled as the Southeast Lake. Southeast Lake, Phil Hansen said, doesn't exist.
"That Southeast Lake area right there, that's made up. There's no such thing," he said. "That's something they (Boswell) made up. That area has never been in the lakebottom. It's never flooded before."
Had RD 749 been the first area filled, the flooding in the so-called Southeast Lake could have been avoided or at least delayed to give extra time for mitigation measures. Hansen said the Boswell management intentionally left their own land dry at the expense of neighbors.
"They (JG Boswell employees) premeditated letting that El Rico area (flood)," Hansen said. "They knew that it doesn't hold very much water."
Erik Hansen, Phil Hansen's brother and business partner, also alleged intentional wrongdoing on Boswell's part.
"It was premeditated. They created this like they wanted it," he said. "They flooded that area first. They knew it wouldn't hold water. They knew it'd break on us, and that's that's our problem."
Boswell President Defends Company's Actions
Boswell president Wurzel said his company and employees didn't do anything the Hansens knew might happen. He said the Hansens even turned to him for help when the water began to rise around their property.
"March 8th, I got five calls from Erik Hansen looking for a place to move stuff. It's not like we blindsided them. I don't call Philip and Erik and tell them when diesel prices drop. I don't tell them when cotton prices go up. I don't tell them what equipment to buy."
Wurzel said the Hansens had access to the same information he had, and therefore should have anticipated Boswell's actions.
"We sit on the same boards together. Philip (Hansen) and I sit on the Tulare Lake Bed (Drainage District). We get all the same information at the meetings," Wurzel said. "It's not like they got blindsided by this. They knew it was a threat."
In response, Erik Hansen said his company farms 640 acres in RD 749 that would have flooded, but they were willing to sacrifice it to save the so-called Southeast Lake area. He expressed disillusionment at Wurzel's every-man-for-himself attitude. Wurzel, he said, never let slip at any meeting they attended together that Boswell Company had created the Southeast Lake.
"The disappointing part also is that, like George said, we're on a lot of boards together. We're on reclamation districts together," Erik Hansen said. "We're supposed to be fighting that area on the Gage-Jones (Canal) together. Never did it come up that they created this new Southeast Lake, which is our property."
Boswell Allegedly Knew Neighbors Would Flood
Because RD 749 wasn't opened earlier, flooding began prematurely in the Southeast Lake, Phil Hansen said. Further, Boswell's flooding of the El Rico and Cousins areas led to flooding on the Hansen Ranches, and Boswell officials knew it would happen.
"So that area is already breaking on the Tule and on the other side of the El Rico, which was their (Boswell's) goal premeditated, and they kept it very hush-hush," Phil Hansen said. "That was their goal, so it's very obvious to us now what the goal is."
Phil Hansen met with Boswell personnel on Friday, March 17, and was told how Boswell intended to proceed.
"Immediately after meeting with Boswell officials yesterday … I went and I met with another expert and someone who worked the last two floods, and I didn't tell that gentleman what Boswell said. I just asked my questions based on what Boswell just presented to me," he said. "In almost every question that I asked, his answer was opposite of what I was told by Boswell. One of them was should the 749 historically flood first? Should it go first? His answer was yes. Areas way west of that have even gone before the 749, and those areas are not taking any water yet either."
Erik Hansen described the fallout from not opening RD 749.
"Water poured over the top of 10th Avenue into the Gates-Jones (Canal). That's never happened before in history," he said. "That was forced to happen because they (Boswell) didn't cut the 749. That forced that levee to breach."
Boswell Plants Tomatoes, Attacks the Media
During his declaration his company's actions had not "blindsided" the Hansens, Boswell's president made a comment that likely left most listeners wondering at his reference. While saying the Hansens should have foreseen the threat to their business and homes, he also included the name of veteran reporter Lois Henry, editor of San Joaquin Valley Water, a news outlet dedicated to reporting the state's water issues.
"Hell, even Lois Henry knows it's a threat," Wurzel said. "It's not a mystery."
The comment seemed to call into question Henry's knowledge of the water issues on which she reports regularly and at length. In her own reporting on Wurzel's remark, Henry wrote that the comment was likely in reference to her frequent reporting on land subsidence caused by the Boswell Company and other eastside growers drawing down the underground aquifer.
On March 31, Henry reported that Boswell Company planted "hundreds of acres" of tomatoes in an area they kept free of water by funneling flows from the South Fork of the Kings River into the Tule River Canal. A small dam has also been constructed to slow the Kings.
According to Henry's article, the Tule River Canal is now running high near the town of Stratford because of the damming.
The area planted in tomatoes is near Utica Avenue in the southern reaches of the Tulare Lake Basin, Henry reported. Her reporting included a photograph of the newly planted tomatoes.
According to Henry, Kings County Supervisor Doug Verboon sees Boswell's behavior as duplicitous.
"This just demonstrates that they had other intentions," he said of the scenario Boswell officials described at the March 18 supervisors meeting.
Henry's reporting highlights a growing distrust of Boswell by county officials.
"I thought we could work together (with Boswell) and limit damages to the community, but I don't believe that's true now," Verboon said, according to Henry's report. "Now, I'm worried about June and July with the snow melt coming … we don't need the lake bottom fighting us."
Boswell Calls the Cops
When Henry attempted to contact Boswell vice president Jeof Wyrick for comments about the newly-planted field of fruit. Wyrick didn't call back. The cops did.
"Instead, a sergeant with the Kings County Sheriff's Office called SJV Water to say it had received a call from Boswell and the company didn't want anyone on its land," Henry wrote.
Kings County Sheriff Dave Robinson said Boswell regularly calls because of trespassers on its land, and the call to Henry was routine. However, he admitted it was unusual for a specific person to be named in such a complaint.
California law protects journalists from this kind of harassment. Specifically, California Penal Code 409.5 assures news outlets have access to disaster areas regardless of ownership.
This wasn't the only threat of use of law enforcement as the Tulare Lake floods.
In another report from Henry, Jack Mitchell, head of the Deer Creek Storm Water District, said he was threatened twice with arrest if he attempted to alleviate possible flooding in the towns of Allensworth and Alpaugh by cutting into the nearby Homeland Canal. Boswell company placed a piece of heavy equipment on the banks of the Homeland Canal to prevent access. Moving it would end in his arrest, Mitchell told Henry.
Meanwhile, someone cut an intentional breach in Deer Creek where it crosses Road 88, and the tracks of the heavy equipment used to make it led to an equipment yard in Earlimart.
Trouble North of Highway 198
The Tulare Lake isn't the only area of Kings County where flooding had ranchers and growers scrambling to stay above water.
On Grangeville Boulevard where Cross Creek crosses, dairy owners took matters into their own hands to prevent disaster, building a levee to redirect water south.
"If we didn't levee up there, that water was going to go and take out two dairies, fill up, and still end up in the Highline (Canal)," said dairyman Joe Mendes. "It's just going to go farther south and go in, in a different spot, so if we hadn't done that, we would save them, what, another day worth of water or whatever depending on how much overflow (went) that way? So it's kind of take it now or take it later. But why screw us up if we don't have to?"
He was addressing Kings County Supervisors during their emergency meeting on March 17.
Sheriff Robinson described several breaches in that area, including "unnatural" ones. They were repaired by county crews.
According to Joseph Faulkner, public works director for Corcoran and director on the board of the Cross Creek Flood Control District, Cross Creek splits at Nevada Avenue into east and west channels. Most of the water is currently heading west.
"There's a small levee that protects the east and west channel, (and) there are some talks about breaking that channel to let more of the water come east," Faulkner said. "If that happens it could have catastrophic implications on the city of Corcoran."
Because of that threat, Faulkner said an armed guard now patrols the levee.
The situation north of 198, as described by rancher Roger Dutra, also highlights the loss of flood mitigation expertise at the county. Dutra farms land in the Cross Creek floodplain, and described the Bureau of Reclamation drawing up a flood mitigation plan in the 1980s that included permanent cuts on Cross Creek.
"And the county was going to check and make sure that they stayed open," Dutra said. "Well, two of them up above us, which would be, you know, for three or four miles farther up, which would help not get so much water down here so fast, are closed."
That brought a comment from Supervisor Verboon demonstrating how desperate the county is to find direction.Verboon asked Dutra to show county officials where the permanent cuts should be restored.
"We've lost a lot of knowledge over the years with people retiring and passing away, so we have a pretty new board," he said. "We don't know all the history."