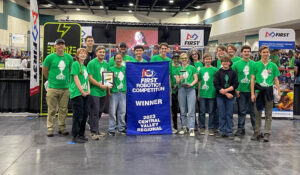 Over the weekend of March 11-12, the University Preparatory High School FIRST Team 6657 Arborbotics won the Central Valley Regional Competition in Fresno qualifying them for the FIRST World Robotics Competition in Houston, Texas this April!
University Preparatory High School (UPHS) is a charter school of the Tulare County Office of Education, located on the College of the Sequoias (COS) campus. UPHS is a public high school that focuses on leadership, community service, and college readiness. Students who attend UPHS have the opportunity to attend rigorous classes to strengthen their reading, writing, math, science, and critical thinking skills. University Preparatory High School started its robotics program in 2017 with one robot and about 20 students and families who wanted to further their students' knowledge in the field of STEM. 
Arborbotics is a student-led program that focuses on introducing students to real-world situations and 21st century skills, such as critical thinking, collaboration, communication, and creativity. These core values are taught through student interaction and personal experiences gained from building a robot from start to finish, and through "coopertition" with other schools at the FIRST competition. 
FIRST defines coopertition as "the philosophy that teams can and should help and cooperate with each other even as they compete." FIRST also emphasizes the tenet of Gracious Professionalism, which they define as "a way of doing things that encourages high-quality work, emphasizes the value of others, and respects individuals and the community." 
The program wants all students to receive an opportunity to learn life skills for future careers, notably in STEM (science, technology, engineering, and math) fields. Many of the robot's components are 3D printed and designed all by students on the team.
While they directly impact many UPHS students, the team strives to reach out to other members of the community, as well. This team is the only FRC team in Tulare County. As such, they do outreach projects and community service around the county throughout the year, emphasizing events focused on STEM accessibility and education. During the off-season, the team holds  weekly programs at Washington Elementary School and Linwood Elementary School both in Visalia. They are also working to get another FRC team started in the area.
Approximately 12% of people in Tulare County have a bachelor's degree, and just about 4.4% of people have a bachelor's degree in a STEM field. Over time, the team hopes to positively affect these statistics and create an environment that encourages students to explore STEM subjects. 
At Arborbotics, students are not just building a robot—they learn about keeping a growth mindset in order to gain and improve their skillsets. 
During the FIRST Robotics Competition, students in the public relations department are tasked with communicating with judges, other teams, and relaying back to the team as well. They develop skills like active listening and speaking—skills necessary to becoming future leaders.
As the team fundraises, students learn to write grants, reach out to potential sponsors, and learn about marketing—also skills today's leaders need to be successful. By learning skills including public speaking, interview techniques, and marketing, students are equipped to play an active role in today's increasingly connected society. 
Each year, the UPHS Arborbotics team seeks substantial community support to take advantage of the opportunities the FIRST organization offers students in the field of robotics. 
To get the Arborbotics team to Houston, Texas, a once-in-a-lifetime opportunity for these students, the team will need to raise $15,000. 
If you or your business is interested in helping the UPHS Arborbotics team get to this World Competition, please click this link to donate bit.ly/6657worlds