O-R-M-O-L-U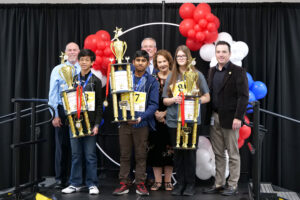 The gold-colored alloy of copper, zinc, and tin used in decorating furniture and making ornaments was the winning word in last week's 2023 Tulare County Spelling Championship. Ormolu was the 15th word spelled correctly by champion Sarvadnya Kadam, a sixth-grade student at Oak Grove Elementary School in Visalia. Kadam will represent Tulare County at the Scripps National Spelling Bee in May.
Students, grades 4-8, from 104 schools throughout the county competed at the TCOE administration building in Visalia. "We are thankful for the continued support and partnership from the Visalia Times-Delta in helping us put on this event for students, coaches, and families," said Tulare County Superintendent of Schools Tim Hire.
Placing second was Madison Hutchinson, an eighth-grade student from Valley Life Charter School in Visalia.
In third place was last year's champion, Bryce Melgar, an eighth-grade student from Ridgeview Middle School in Visalia. Last year, Melgar, became the county's first-ever semifinalist after advancing to the Scripps National Spelling Bee semifinal round.