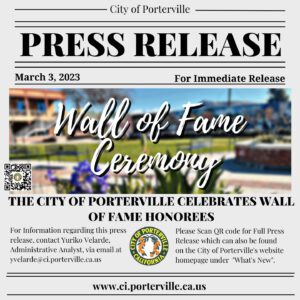 The City of Porterville would like to invite the community to attend the annual Wall of Fame Ceremony. The ceremony will be taking place on Friday, March 10, 2023, beginning at 12:00pm at Centennial Park. The honorees being inducted into this year's Wall of Fame include Don Dowling, David Gong, Cameron J. Hamilton, Maria C. Roman, and Milt Stowe.
On an annual basis, the Porterville City Council will honor and recognize individuals in the community for their significant efforts and service to the Porterville community. The Wall of Fame program started in 2007 and has been honoring members of the community every year since then. Each member of the City Council has the opportunity to select one (1) community member who has lived in the Porterville area for a minimum of fifteen (15) years to induct as an honoree. City Hall has a dedicated Wall of Fame section on its east hallway to recognize these individuals for their significant efforts and service to the community. With the addition of the 2023 nominees, there will be total of sixty-nine (69) honorees who have been inducted since the inception of the program.
The City of Porterville celebrates the dedicated members of the community and looks forward to honoring many more. Please join in thanking and recognizing these individuals at the scheduled Wall of Fame ceremony. For a full list of past honorees, please visit the Parks & Leisure page at https://www.ci.porterville.ca.us/residents/wall_of_fame.php or for more information on the ceremony, contact Leisure Services Specialist, Amy Graybehl, at 559.782.7521.