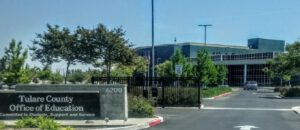 9:00 a.m., Thursday, March 9, 2023 · Tulare County Office of Education, 6200 S. Mooney Blvd., Visalia
The 24th Annual Tulare County Spelling Championship will begin at 9:00 a.m. Thursday, March 9 at the Tulare County Office of Education, 6200 S. Mooney Blvd. in Visalia. The event was moved from Valley Strong Ballpark to the Tulare County Office of Education due to weather concerns.
This year, 104 spellers from grades four through eight will compete for the opportunity to become the 2023 Tulare County Spelling Champion and advance to the Scripps National Spelling Bee, scheduled to be held at the Gaylord National Resort and Convention Center in National Harbor, Maryland, in May. These students represent 104 public and private schools throughout the county.
Seating for the first rounds will be limited to the speller, their alternate, the spelling coach and one spectator per school. Additional spectators are welcome to attend, however they will not be able to enter the conference center until after the first few of rounds are over. However, some overflow seating will be available in the lobby and monitors set up for viewing the competition live. Family and friends are welcome to watch online at https://zoom.us/j/98768291822.
Tulare County Superintendent of Schools Tim Hire and the Visalia Times-Delta/Tulare Advance-Register annually partner to sponsor the event. Through the partnership, one talented Tulare County speller will be crowned spelling champion and represent the county at the national competition.