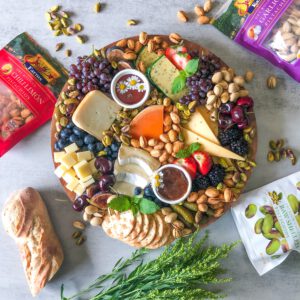 Setton Pistachio of Terra Bella, Inc., the nation's second-largest pistachio grower and processor, is expanding their line of premium pistachios by opening a fully dedicated USDA organic-certified facility, Setton Organic, LLC. Located in Ducor, California just five miles south of the main processing plant, Setton's outstanding quality products will now include SKUs in the rapidly growing organic category, with retail and bulk lines offering both roasted and raw in-shell and kernel pistachios. For more information on Setton Farms, visit www.settonfarms.com.
"Our philosophy of expanding thoughtfully and sustainably drives all our efforts," said Setton Farm COO Mia Cohen. "Offering the world our nutrient-dense organic pistachios is simply the next step in this process."
Growing premium quality, organic pistachios begin in Setton Farms' orchard. Natural repellants mitigate crop damage while the soil is fortified with compost from the pistachio hulls, leaves, and branches sorted out during harvest. All equipment and silos are certified for use by CCOF, granting Setton's products the official USDA organic seal.
Setton's processing method, known for exceeding industry quality standards, utilizes three sorting techniques and a proprietary pasteurization system. Automated inspection, sampling, and packing streamline the process from start to finish. This technologically advanced 45,000 square foot operating facility is equipped with four retail packaging lines and three bulk packaging lines, which will offer both roasted and raw in-shell and kernel pistachios. The certified organic classic roasted salted variety is available now in a 7-ounce resealable bag. A versatile new display ships preloaded and can hang from a quarter pallet bin or stand upright on the provided base.
Setton Farms organic pistachios are available in stores nationwide and on Amazon. Receive a 10% discount on Amazon through Monday, March 6 with the code:  10ORGANIC10. Setton will also offer their new organic pistachios, along with their full product line, at the Natural Products Expo West trade show at booth number 5626 on Thursday, March 9 through Saturday, March 11 in Anaheim, California.
Setton Farms, the second largest pistachio grower-processor in the United States, is a family-owned and operated brand located in the heart of Central Valley, California since 1986. Highly regarded as "America's Best Tasting Pistachios," and widely recognized for its superior quality and tradition of excellence, Setton Farms grows, harvests, processes and manufactures pistachios using renewable energy, eco-friendly practices, and proprietary techniques. The Setton Pistachios of Terra Bella, Inc. company offers an established line of premium in-shell and kernel pistachio products that are Non-GMO Project Verified, Certified Gluten-Free, Organic and Kosher, while a select variety feature the AHA Heart-Check mark. Setton provides pistachios to more than 60 foreign markets worldwide and distributes to wholesalers and retailers throughout the United States. For more information, visit settonfarms.com and follow on Instagram, Facebook, TikTok and Twitter.