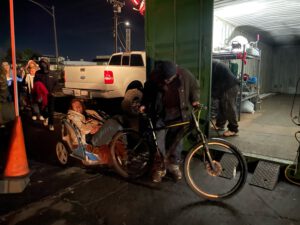 According to a 2022 Point-In-Time count, there are 4,216 people experiencing homelessness in Tulare County, 2,338 of whom are unsheltered.
Over half of the homeless are left to sleep outside in the 30° weather experiencing freezing discomfort and risking hypothermia. But there is a shelter in Visalia for those in need.
Located at 701 East Race Avenue, Visalia's Warming Center is open seven days a week from 9pm-7am. The center has a maximum capacity of 72 people but has been averaging around 70 people a night for the last two weeks.
Despite the building being quite small the environment created by Suzy Ward, the Priest at St. Paul's Episcopal Church, is quite pleasant and has enough room for everyone needing shelter. People filed into the building where they were registered at the desk and their belongings tagged then moved to a safe storage room ensuring no theft. Each person is given a snack bag, a sleeping mat, and blanket. If needed crates for dogs were offered to those who had pets.
According to Ward, during the month of January there have been a total of 1,685 clients, 260 of which are unduplicated individuals. Of the individuals 72 were single women, 43 were senior citizens, and 69 identified as severely disabled.
The Warming Center is considered a low barrier shelter, meaning that as long as a person is compliant to the shelter's base rules, they can stay. Occasionally guests arrive intoxicated or high but are still welcome as long as they don't cause problems; staff is able to de-escalate any problems that may occur.
The warming center is housed in the Police Activities League (PAL) building and primarily run by two people, Ward and Christy Bergen, the executive director for the Visalia Homeless Center. The warming center initially started out small, being hosted in Ward's church for 5 months 2018.
Bergen said that she has a lot of compassion for the homeless and that it was her calling.
"It was important, needed to happen, and people shouldn't freeze," she said.
"It is also worth noting that two, long-time heroin addicts have found stability in the Warming Center, so much so that they have enrolled in a methadone program to try and stay clean," said Bergen
When hosting the Warming Center, adjacent residents and businesses express their concerns during the permitting process at the Visalia Planning Commission and City Council meetings.  Through the years Ward has mitigated neighbors' concerns by hiring security guards and making sure to clean up  any trash left behind as the guests leave.
The shelter is closed by 7am, before local businesses are usually open.
When the guests do leave the Warming Center they are encouraged to visit "The Warehouse" where they can receive warm coffee and a place to get out of the weather. They also offer clothing and hygiene items when available but rely on donations received.
During the pandemic the warming center was unable to host a building due to congregant shelters being closed. Luckily they had received funds from the Kings/Tulare Homeless Alliance to house people at Lampliter Inn, though they were only able to secure 32 rooms and lodge 50 people, prioritizing elderly, disabled, and those with families.
"The stability of having somewhere warm to stay and food to eat then being taken away after the warming center closed encouraged the visitors to sign up for homeless benefits or applying for jobs," Ward said.
Ward and Bergen have been running the Warming Center for 5 years and with it has come its share of hardships. The first year they received very little funding and had a small staff that was needed all through the night. Luckily after the first year the two were able to obtain some funding for a better building but a permanent location is difficult to find. Landlords and property managers weren't willing to host a Warming Center due concerns that the people would tear up or damage the property.
For those interested in helping people using the warming center visit Visalia Warming Center on Facebook to view the Amazon wish list of requested items. The most requested items are bulk individually wrapped foods such as snacks, coffee, and sweeteners/creamers.
For those interested in volunteering visit the warming center at 701 East Race Avenue, the best time to visit being after 8:30 pm.