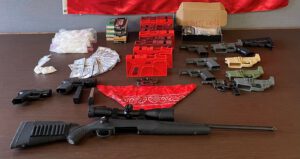 As part of the ongoing investigation into the Goshen Massacre on January 16th, which prompted "Operation Nightmare", the Tulare County Sheriff's Office TAGNET unit organized a multi-agency Probation and Parole Detail.
Officers from the Visalia Police Department, Dinuba Police Department, Tulare Police Department, Woodlake Police Department, Farmersville Police Department, Exeter Police Department, Lindsay Police Department, Porterville Police Department, Tulare County District Attorney's Office, Tulare County Probation, CDCR Parole and Alcohol Tobacco Firearms and Explosives participated in the detail, which covered the entire county of Tulare and incorporated cities.
As a result, 26 suspects were arrested, 18 arrest warrants were served, six firearms and an ounce of a controlled substance were seized.  A total of 97 homes were searched during the four-day operation. The focus of the operation was to conduct probation and parole compliance checks, as well as, arrest warrant services on known gang members throughout Tulare County.
On Friday, Detectives continued their ongoing investigation and the Tulare County Sheriff's Office, along with Tulare County HIDTA, Homeland Security Investigations (HSI), Alcohol Tobacco Firearms and explosives (ATF), Federal Bureau of Investigations (FBI), Drug Enforcement Agency (DEA), California Department of Corrections & Rehabilitation Fugitive Apprehension Team, California Department of Justice TARGET Task Force, Visalia Police Department, Kings County Sheriff's Office and Porterville Police Department served nine search warrants in the Visalia and Goshen areas on known Norteno gang members.
As a result, five firearms, ammunition, two pounds of methamphetamine, one ounce of cocaine, an illegal firearm manufacturing operation and gang indicia were located. The illegal firearm manufacturing operation consisted of gang members making and selling untraceable firearms to other gang members. Evidence seized consisted of polymer 80 parts to assemble untraceable handguns, assault rifle parts to assemble untraceable AR-15 style firearms and parts to make a handgun fully automatic.
As the warrants were being served in Tulare County, the California Department of Corrections & Rehabilitation simultaneously conducted 23 cell searches on known Norteno and Nuestra Familia gang members throughout multiple prisons in California. As a result, numerous cellphones, weapons and gang intelligence were seized from validated prison gang members.
Today, the following suspects were arrested and booked at the Tulare County Adult Pre-Trial Facility for the following charges:
Jimmy Analla Jr, 31 years old, Goshen
Possession of methamphetamine for sales, Possession of Cocaine for sales
Carlos Garcia Jr, 25 years old, Visalia
Child Endangerment, Possession of an assault weapon, Manufacturing an illegal weapon, and Gang Enhancement.
Carlos Garcia Sr, 44 years old, Visalia
Felon in possession of a firearm, Gang Enhancement
Julie Balderama, 27 years old, Visalia
Child Endangerment
Rigoberto Benavides, 36 years old, Visalia
Possession of drug paraphernalia
Patricia Flores, 30 years old, Visalia
Possession of drug paraphernalia, Violation of Parole
Michael Castro, 40 years old, Visalia
Child endangerment, Prohibited person in possession of a firearm
Tommy Gonzales, 30 years old, Visalia
Felon in possession of a firearm, Felon in possession of ammunition, Possession of a stolen firearm
Anyone with information regarding this investigation is encouraged to contact the Tulare County Sheriff's Office at (559) 733-6218. Or, they can remain anonymous by calling or texting (559)725-4194 or through email at
[email protected]