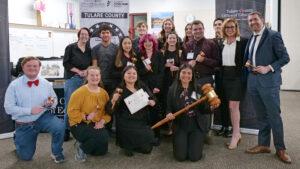 Last Wednesday, Exeter Union High School (EUHS) defeated University Preparatory High School (UPHS) at the Mock Trial finals held at Granite Hills High School's Justice Center in Porterville. Exeter will now represent Tulare County at the state finals scheduled for March 17-19 in Los Angeles.
Exeter students were all smiles and hugs after their big victory, including senior Gaby Rodriguez, who played the pretrial defense attorney. Afterward, Rodriguez said she felt everything went well and was proud of her team.
"I thought that our whole team did a really good job, and I was really proud of everyone's witness performances and their arguments," she said. "I feel really proud of my whole team."
Exeter's team was comprised of: Holly Decramer, Eden Diaz, Trinity Elliott, Ethan Gonzales, Wyatt Jardon, Carter Lang, Iani Martinez, Natalie Oneto, Marin Parker, Isabella Payne, Mia Regalado, Gaby Rodriguez, Lizette Rodriguez, Alex Romero, Ryder Stimpel, Megan Thompson, and Gemma Valero.
The team was coached by Heidi Carmen, with assistance from attorneys Adam Clare and Roger Wilson.
This year's fictitious case was People v. Franks – the trial of Jordan Franks, who was accused of stealing a fellow actor's signet ring – a ring once owned by William Shakespeare. The prosecution was presented by UPHS, and the defense by Exeter.
"It was definitely a really steep learning curve because you learn a lot about the legal process," Rodriguez said about the experience. "And it's all about trial and error. Seeing what works, seeing what doesn't. And I think it's such an important academic opportunity for everyone."
Also announced last Wednesday were the winners of the courtroom artist's competition and the courtroom journalist's competition.
The winning artists advancing to the state competition are Rylee Correa of UPHS and Ester Calderon of Redwood High School.
The winning courtroom journalist advancing to the state competition is Kari Pendegraft of UPHS.
Rodriguez, who plans to follow a career in chemistry, said that the Mock Trial experience taught her how to conduct arguments and have confidence in whatever she wants to do.
"I think that having this experience is one of the most valuable things I've had," she said.
For the complete list of winners and their winning projects, visit www.tcoe.org/MockTrial/Results.