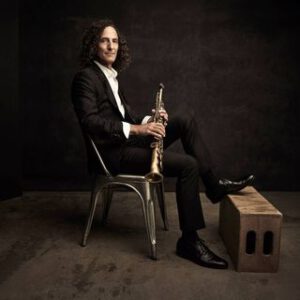 The legendary jazz musician, Kenny G will be performing Live at the Visalia Fox Theatre on Thursday, April 27th, 2023.  Tickets to the public have been available since Friday, February 10th.  Tickets and Fox Pass's may be purchased at www.foxvisalia.org, by stopping by the Visalia Fox Office at 308 W. Main Street, M – F, 10AM – 4PM, or by calling (559) 625-1369.
Now let's talk about Mr. G.  Kenny G started his career in 1982 as a saxophonist and has been mesmerizing millions of people with his unique sound, ever since.  He is truly one of a kind.  Kenny G's influential music has been known to be in famous movie soundtracks, such as Dying Young (with Julia Roberts) and The Bodyguard (starring Kevin Costner and the late Whitney Houston).  More recently, he contributed to the soundtrack of Nickelodeon's The Spongebob Movie: Sponge on the Run in 2021, with his cover of, "My Heart Will Go On" as well as "Gary's Song."
Did you know that Kenny G earned a place in the Guinness Book of World Records in 1997 for playing the longest note ever recorded using a saxophone?  With an original goal of 30 minutes, the talented artist surpassed the original goal by holding an E flat on his sax for 45 minutes and 47 seconds.
He's produced 18 Compilation albums, 41 Single Albums, 3 Live Albums, and 15 Studio Albums (including 2 beautiful Christmas albums).  Kenny G has been nominated for several Grammy awards; winning himself Best Instrumental Composition for his piece called, "Forever in Love."  He has also won two NAACP awards (1994, 1998) for, "Outstanding Jazz Artist."  And in 1989 and 1994 he won the Soul Train Music Awards for "Best Jazz Album."
Kenny G continues to amaze crowds all over the world with his smooth jazz and iconic sound.  Come and experience a night with Kenny G at the Visalia Fox Theatre.  Please call The Fox if you have any questions, at 559-625-1369.