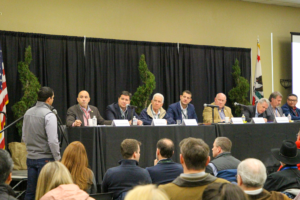 Today, Congressman David G. Valadao (CA-22) hosted the Chairman of the House Committee on Agriculture Glenn "GT" Thompson (PA-15) and Speaker of the House Kevin McCarthy (CA-20) for a Farm Bill Listening Session at the World Ag Expo in Tulare. The listening session brought together farmers, ranchers, producers, and agribusiness owners to gather feedback for the 2023 Farm Bill reauthorization process.
"My constituents are the farmers who feed the world, and their feedback is critical to making sure our Farm Bill reflects the needs of the Central Valley," said Congressman Valadao. "Today, we heard a lot of valuable input about how to best support California agriculture in the upcoming Farm Bill – from strengthening crop insurance to addressing skyrocketing input costs. I want to thank Chairman Thompson for bringing the committee to Tulare, and Speaker McCarthy for continuing to put the Central Valley first. I look forward to working alongside members of the House Agriculture Committee on this vital legislation."
"I'm grateful for my friend and colleague, Mr. David Valadao, for welcoming our bipartisan Congressional delegation to the Central Valley," said Chairman Thompson. "The feedback we received in this listening session will be critical in crafting the 2023 Farm Bill."
Members joining Rep. Valadao for the listening session were Speaker Kevin McCarthy (CA-20), Chairman Glenn "GT" Thompson (PA-15­), Reps. Jim Costa (CA-21), John Duarte (CA-13), John Rose (TN-6), Jimmy Panetta (CA-19), Doug LaMalfa (CA-1), Salud Carbajal (CA-24), David Rouzer (NC-07).