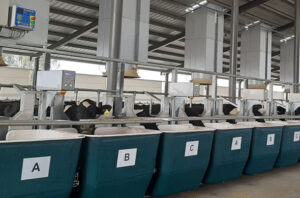 Visalia, California – DairyExperts, a dairy research, consulting, training, and laboratories facility located at 17721 Road 112 in Tulare, will have an open house with a ribbon cutting ceremony on Monday, February 13, 2023, at 10 a.m.
The first facility of its kind in the region, DairyExperts is a Contract Research Organization (CRO) that specializes in studies in cattle with the expertise and experience to provide a portfolio of research and development solutions ranging from proof of concept to large pivotal trials. The company was founded in 2012 by Dr. Alfonso Lago who is from a dairy region in northwest Spain.
"Growing up and watching veterinarians and animal scientists play such a vital role in dairy farming through guiding the transformation from near subsistence farming and misery, for most, to modern dairy operations and wellbeing, was the inner force for me to want to be a consultant first and researcher later to work on providing evidence-based solutions to the dairy industry," said Dr. Lago, DairyExperts Owner & President.
Tulare County is one of the top agricultural producing counties in the country with milk as the top product. In 2021, Tulare County was the nation's top dairy producer, with a gross value of $1.94 billion according to the Tulare County Crop & Livestock Report.
"A world class dairy research facility has no better home than the nation's premier dairy economy- Tulare, California. We are thrilled to officially welcome DairyExperts to Tulare County, and we are confident they will find fertile ground for research and development amongst our exceptional commercial dairy operations," said Board of Supervisor, Pete Vander Poel.