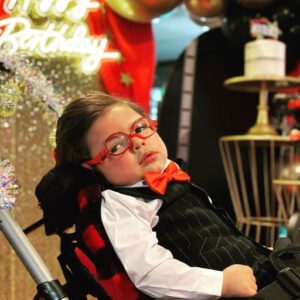 An infant boy who suffered permanent brain damage as a result of Tulare County Child Welfare Services' failure to respond to reports of child abuse has obtained a $32 million settlement against the County. In addition to the monetary settlement obtained for the child and approved by the court, the County is required to confirm it has implemented policies and software that will enable the agency to better track and follow-up on prior complaints of alleged child abuse. Plaintiff is represented in the case by attorneys Brian Panish, Pete Kaufman, and Wyatt Vespermann of Panish | Shea | Boyle | Ravipudi LLP. Plaintiff was also represented in the matter by co-counsel Stephen Cornwell and Nicholas R. Urgesi of Freedman Law.
This is believed to be the largest settlement ever obtained against a child protective services agency by a surviving child of abuse in the state of California.
"J.G.'s experience represents one of the worst cases of what happens when Child Welfare Services fails to fulfill its basic obligations," said lead attorney, Brian Panish. "There is no amount of money that will restore J.G.'s quality of life and we will never know the life he could have lived if the County had just done its job. We hope this settlement serves as a wake-up call to child welfare service agencies everywhere."
Beginning in March 2020, Plaintiff J.G. was the subject of numerous endangerment referrals received and ignored by Tulare County Child Welfare Services. The infant boy was suffering from malnutrition and neglect while in the custody of his biological parents, however, employees of the County failed to respond or investigate these reports. As J.G.'s health deteriorated over the next five months, his body was visibly malnourished and deteriorating. At 10 months old, J.G. was found unresponsive and admitted to the hospital where he was diagnosed with profound brain damage attributed to his diet and lack of essential nutrition. The child was immediately placed on life support. When it was determined J.G.'s brain damage was irreversible, life support was discontinued but the child did not die.
When the County became aware of J.G.'s resulting condition, they immediately set out to orchestrate a coverup – going so far as to alter records in an effort to change the timeline of events. Despite its egregious acts, the County has denied any responsibility, liability, or accountability throughout this case and fought for over a year to deny justice to J.G. The landmark settlement was reached just weeks before a trial was set to begin in Visalia that would have spotlighted alarming systemic issues within the county's department of Children Welfare Services.
"Tulare County Child Welfare Services exists for one reason: to protect the smallest and most vulnerable members of our society. When it came to protecting J.G., Child Welfare Services failed miserably," said attorney Wyatt Vespermann.
Defendant County of Tulare was represented in the matter by Dana Fox of Lewis Brisbois Bisgaard & Smith LLP.
J.G. v. County of Tulare, et al.
Superior Court of the State of California, County of Tulare
Case No. VCU286277
Hon. Bret Hillman