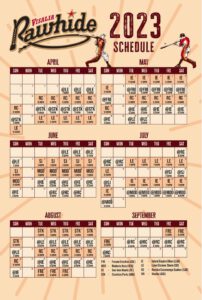 The Arizona Diamondbacks announced their coaching staffs for their Minor League teams for the 2023 season, including the group that will lead their Single-A affiliate, the Visalia Rawhide. At the helm for the Rawhide will be Manager Darrin Garner.
Garner will start his first season as the Manager of the Rawhide in 2023. This will mark Garner's eighth season with the Diamondbacks and his second stint with the Rawhide after serving as bench coach in 2021.
Tyler Mark will be returning to Visalia in 2023 as the team's pitching coach after retiring from his playing career at the conclusion of the 2019 season. Mark was a reliever for the Rawhide during parts of the 2018 and 2019 season. This will be Mark's first season serving in this role after coaching the Dominican Summer League team in the same capacity in 2022.
Kyle MacKinnon will be the Rawhide hitting coach and making his debut with the Diamondbacks in 2023. MacKinnon has spent the past 6 seasons at McPherson College, where he spent the first five seasons as the hitting coach and assistant coach before becoming Manager for the 2022 season. In his lone season as Manager, MacKinnon led the Bulldogs to a program record 40-win season and a win over Middle Georgia State University in the opening round of the NAIA tournament.
Rolando Arnedo will be acting as the team bench coach this season. Arnedo has been with the Diamondbacks organization in a variety of roles since 2013. This will be Arnedo's first season with the Rawhide.
Connor Oates will be serving as the Athletic Trainer and this will be his first season with the Diamondbacks. Nate Kolb will be the Strength & Conditioning coach, also in his first season with the Diamondbacks.
The 2023 season home opener will be Tuesday, April 11th with first pitch at 6:30PM. For information on tickets and promotions visit Rawhidebaseball.com.