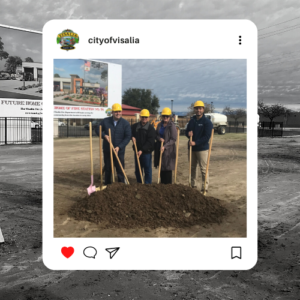 On January 4th, the City of Visalia celebrated the groundbreaking of the Visalia Fire Department's Fire Station 56.
Located on 1321 South Lovers Lane, once constructed, Station 56 will be the new home of Engine 56, which is currently stationed on the CAL FIRE Tulare campus just south of the site.
The ceremonial groundbreaking kicked off Visalia's 100th year as a charter city, as noted in an address by Mayor Brian Poochigian.
"It was thanks to Visalians in 1923 that we became a charter city. Today, 100 years later, we thank the citizens of Visalia for allowing us to break ground on our newest fire station," shared Mayor Poochigian. "By voting yes on Measure N in November 2016, Visalia voters supported our City's essential services and made it clear they valued our first responders and the investment required to provide our high level of service to our citizens."
The new fire station will be a replacement fire station, as Engine 56 will move from the CAL FIRE Tulare campus once the new City station is complete.
"We thank CAL FIRE to allow us to rent space on their campus since 2006," provided Visalia Fire Chief Dan Griswold. "The crew that is currently at CAL FIRE will be moving to this location, it will be the same crew. Our station captain will be here with their firefighter and engineer 24/7."
Multiple sites were evaluated for the new City fire station, with the project team determining that the South Lovers Lane location would serve east Visalia best.
In his address to the crowd, Chief Griswold added, "This site will continue to serve our community for the next 40 to 40 plus years."
Fire Station 56 will be 6, 800 square feet in size, which includes the living quarters and the two apparatus space, which will house the engines. The station will back-up against Arkle Street.
At the close of the comments portion of the event, the Visalia City Council officially broke ground on the site by digging right into the dirt with special golden shovels, signaling that construction can officially begin.
Construction will be underway in the next few weeks, with a ribbon cutting ceremony tentatively scheduled for early 2023.