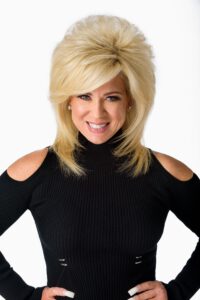 The Long Island Medium, Theresa Caputo, is celebrating her 10th Anniversary of being out on tour and sharing personal stories about her life and explaining how her gift works.  Theresa will deliver healing messages to audience members and give people comfort knowing that their loved ones who have passed are still with them, but just in a different way.
THERESA CAPUTO LIVE! THE EXPERIENCE brings Theresa face-to-face with her fans, as she lets spirits guide her through the audience.  A video display ensures everyone in the venue has an up-close-hands-on experience regardless of seat location. "The experience isn't about believing in mediums. It's about witnessing something life-changing" says Theresa Caputo. "It's like Long Island Medium live, witnessing first-hand spirit communication."
TLC's Long Island Medium aired for an incredible 14 seasons — last year Theresa went on to star in Long Island Medium: There In Spirit on Discovery+.  Theresa is now the host of her own weekly podcast, Hey Spirit!, which was recently nominated for an Ambie Award in the Best Personal Growth Spirituality category.  Hey Spirit!  gives Theresa a platform to engage with her millions of followers sharing stories about their past loved ones and meaningful feel-good tips for a healthier and happier time on earth.
Theresa is also the author of four New York Times Best-Selling books including her most recent Good Mourning: Moving Through Everyday Losses With Wisdom From The Other Side and remains a constant favorite guest on talk shows and has appeared on such programs as The Tonight Show with both Jay Leno and Jimmy Fallon, Live with Kelly & Ryan, Kelly Clarkson and The Today Show.
Theresa has been a practicing medium for over 20 years who loves nothing more than to help individuals find closure by delivering healing messages.  For Theresa, this is not just her job…this is her life. With her energetic, positive, and encouraging tone, Theresa is able to guide people through grief toward a place of solace and healing.