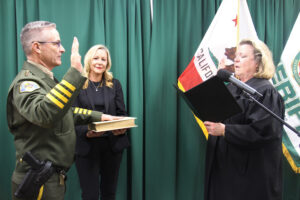 Sheriff Mike Boudreaux has taken the Oath of Office and was sworn in for his third term as Sheriff-Coroner of Tulare County by the Honorable Tulare County Presiding Judge Juliet Boccone.
"I rarely get nervous," Sheriff Boudreaux said. "But today I was because it just means so much to me."
He thanked his parents, wife, and children for their continued support over the last 10 years as Sheriff. Sheriff Boudreaux was first appointed to the position of Interim Sheriff in 2013 when then Sheriff Bill Wittman stepped down. Next, Sheriff Boudreaux went on to win three elections.
He said he was thankful to the residents of Tulare County whom he serves, and he's excited to begin a third term. There's a lot going on at the Sheriff's Office, including new substations in Porterville and Earlimart. A new Coroner's Office in Tulare is in the works as well as a new jail just north of Visalia. And a new shooting range for staff is up and running near the Bob Wiley Detention Facility.
During Sheriff Boudreaux's tenure, the Sheriff's Headquarters moved to a modern office building; a new Property and Evidence Building and the South County Detention Facility were built; and he created the Youth Development Unit which, last year, reached out to 25,000 boys and girls in Tulare County through free sports leagues and more.
"I just love this job," Sheriff Boudreaux said. "I started with the Sheriff's Office when I was 19 years old and all my adult life, I've been with the Sheriff's Office in public service. And I've never wanted to do anything else."