A message from Salt and Light, the Visalia Rescue Mission, and Habitat for Humanity
Salt and Light – Adrianne Hillman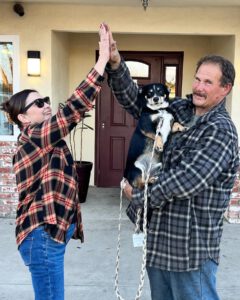 As 2022 comes to an end, we want to take a moment to thank you for all your kindness and support. Your consistent love and generosity pours out abundantly into the hearts of our neighbors and to each of us here at Salt + Light.
Many of our neighbors living on the streets are unable to receive resources to assist them because they don't have the correct documentation or an address to utilize. So much of our work each day is spent building trust among our neighbors so they feel safe and not judged based on their current circumstances. Having identification gives a sense of belonging and can help them to find work and step out of cycles they no longer wish to be in.
The success of this is invaluable. In the past couple of months, two of our neighbors, Patrick and Trudy have successfully been placed in housing. These are the direct results of your contribution to Salt + Light.
Did you know that you can use your stocks, securities, required minimum distributions (RMDs) and other non-cash assets to bless and support the work of Salt + Light? If you own appreciated securities, including stocks, bonds, and mutual funds, you can boost your giving strategy by gifting these assets directly. A direct stock gift can minimize your taxes at the end of the year while maximizing your impact on helping us cultivate community by providing dignified homes, jobs, and healing to people in Tulare County experiencing homelessness.
For more information about donating your securities/stocks/non-cash assets please feel free to contact our Director of Relationships + Giving, Jenn Eskridge at 559.731.3034 or by email at [email protected].
Visalia Rescue Mission – Al Oliver
Friend, Christmas will be here before you know it! And so many of our struggling neighbors are still waiting for a caring friend like you to reach out and help them. Please don't forget about our neighbors in need this holiday.
Hurting neighbors need a hero right now.
And that hero is YOU!
Provide a Holiday Hero Pack that includes meals, daily essentials and Christ-centered care for someone in need. Please help today!
This Christmas you can give the best gift there is… the essential care needed to help someone rebuild their life and discover a real relationship with Christ! Starting at just $50, share a Holiday Hero Pack with a neighbor in need that includes:
10+ hot, healthy meals
2+ nights of safe shelter
Plus access to clothing, medical care & recovery programs!
Your Holiday Hero gift will provide someone who's struggling with the basics they need to live a whole and healthy life! By giving now, you'll help restore lives through Christ-centered care your gift makes possible.
Be a hero for our homeless neighbors this holiday season. Please give now! Go to https://vrmhope.kindful.com/?campaign=1225452?utm_source=Email&utm_medium=HolidayHero&mc_cid=341caaade4&mc_eid=cd65cc0720 to make a donation.
Habitat for Humanity
Whether you are making a last minute gift for tax purposes or simply donating to a good cause, you can use the link below to take you directly to our secure online donation page! Habitat for Humanity is a 501(c)3 non-profit organization so it is a qualified charity.
Every year we rely on generous donors to help us continue our work around affordable housing and minor home repair issues in our area.
We are excited to announce we will start building a new home in Visalia in 2023 and we have obtained 1 lot in Porterville, 3 lots in Hanford, and 1 lot in Exeter for future builds! All proceeds for funding these builds come from our annual spring Bird House Auction Gala, our annual fall Golf Tournament, and year-round donations from people like you. Because of you we get to help our neighbors live in a safe and healthy home. Because of you we get to build hope and positivity in the communities and environments that we live in.
Will you help us out with just $50 or any amount today? These are the things we can do because of your kind donation:
Provide minor home repairs for low to moderate income families and individuals including Veterans, the elderly, and disabled.
Provide affordable housing for low to moderate income families and individuals including Veterans, the elderly, and disabled.
Provide a stable, healthy and safe community environment for children and families who call this place home.
It's that easy to make a difference today. Please do not hesitate to contact us with any questions!
Habitat for Humanity of Tulare/Kings Counties, 637 S Lovers Lane, Visalia, CA 93292
559.734.4040 x.106