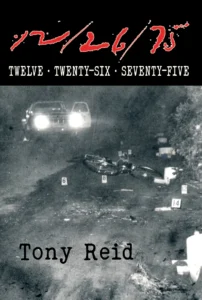 The Book Garden joins dozens of businesses for an evening of community events and late-night shopping in Downtown Exeter. As part of the "Open House" holiday gathering, The Book Garden is hosting a "Meet and Greet" event with P.I./Attorney Tony Reid, author of the new book "12/26/75 (Twelve Twenty-Six Seventy-Five)" (Published by Genius Book Publishing, Milwaukee, Wisconsin).
The title "12/26/75" refers to the date of the Exeter homicide of Donna Jo Richmond—December 26, 1975. This groundbreaking, 448-page true crime book (available in paperback/e-book) provides an in-depth look inside the investigation: re-examining the original police reports, transcripts, and defense files. Despite maintaining his absolute innocence, Oscar Clifton was convicted and given the death sentence. In 2015, Mr. Reid began a new effort to examine the facts. Turning first to the original investigators, and then to the public for assistance, he created a podcast with the same title. The book adaptation reveals recent information, examines other possible crimes, and highlights the errors in the recent integrity review.
The book specifies the exact reasons why Clifton was wrongfully convicted and provides substantial evidence for considering Joseph DeAngelo as an alternate suspect in the Richmond murder. The shocking details of exculpatory evidence and official misconduct make this perhaps the most consequential wrongful conviction in California history.
Tony Reid will be answering questions, discussing the investigation, and Exeter Book Garden will have copies of the book available for purchase and autographs. Dozens of downtown businesses will be held open for an evening of celebration and excitement on each Thursday night throughout December. The theme for December 8 is "Elves Night Out" with an elf-themed scavenger hunt, a "Who-bilation" event, fire truck rides, and photo ops with Santa and the Exeter Grinch, all sponsored by the Exeter Chamber of Commerce.
EVENT CALENDAR DETAILS
Title:                Meet & Greet Tony Reid, Author of "12/26/75"
Organizer:       Exeter Book Garden, 189 E. Pine St., Exeter, CA 93221
Date & Time:  Thursday, December 8, 2022, 5 – 8 pm
Exeter Book Garden is a full-service bookstore specializing in area histories, and is one of the last independent bookstores in the area. For information about the bookstore, please contact Sally Brewer: [email protected] or (559) 592-2538
For information about the Exeter Open House Event, please find more info at the Exeter Chamber of Commerce link: [https://www.exeterchamber.com/event/exeter-christmas-open-house/2022-12-08/]  or contact them at [email protected] or (559) 592-2919