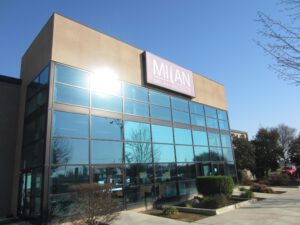 The Milan Institute of Cosmetology and television giant Sinclair Broadcasting – which owns four TV stations in Fresno and Bakersfield – are gearing up for a legal battle in the Tulare County Superior Court. Sinclair claims the school owes it money – and Milan claims that Sinclair purposefully smeared its reputation in order to get that money.
Sinclair filed its lawsuit in May 2021 over $54,812.84 allegedly owed for advertising. The company owns Fresno's FOX 26 and CW 59 alongside Bakersfield's CBS 29 and FOX 58. Sinclair is seeking interest on the balance and legal fees; its four stations reach Bakersfield, Visalia, Clovis and Merced, where Milan has schools.
Milan states in a cross-complaint that it attempted to work out a payment plan with Sinclair when the school hit dire financial straits. After Milan staff told Sinclair they needed time to pay, Sinclair representatives allegedly responded by threatening to run stories about its schools that "disparaged [them] and showed Milan in a bad light."
The school is alleging that Sinclair engaged in unfair business practices, violated debt collection laws, and committed trade libel, among other claims.
Gary Yasuda, President of the Milan Institute, told the Valley Voice that the threats were communicated verbally to their advertising agency; the agency passed the news of the threats along via email.
After the payment deadline passed, the school's lawsuit claims that Sinclair sent reporter Jeff Platt to make good on its threats through a series of stories aired on Sinclair's Bakersfield stations; he has since moved on from the station, and declined to comment for this story, citing ongoing litigation.
Teresa Burgess, general manager for Sinclair's KBAK CBS 29, also declined to comment due to ongoing litigation.
The stories
A series of stories ran between September 19 and 30, 2019, according to the website for CBS 29 and FOX 58; the stories included allegations that Milan neglected sanitation and upkeep in its buildings, withheld students' financial aid, and diverted employees' retirement funds to keep the company afloat.
The reports, which Milan says are misleading and backed by student comments taken out of context, are still available on bakersfieldnow.com; one is also available on KMPH's website.
"They did not focus any stories on us until after we told them that we could not pay its invoice," Yasuda told the Voice. "They have unfair leverage, which is granted by a FCC license, to use their media presence to destroy any business with whom they have a disagreement, in our case, to pay under the threat of running hit pieces because of cash flow restrictions."
Milan began a relationship with Sinclair in 2010 as an advertiser, according to the Sinclair lawsuit. In 2019, the school fell behind on its payments for advertising, and on October 2, 2019, Milan President Gary Yasuda signed an agreement with a collections agency, Communications Credit and Recovery to structure its payments.
Enrollment dip
According to the October 2019 agreement, Milan owed $109,081.45 after late charges and collections fees. The company agreed to make monthly payments from October onward: nine payments of $11,000, and one final payment of $10,081.45.
The agreement was signed under duress, Milan's lawsuit claims. After the reports were aired, Milan says it experienced a "minimum 20% decrease in its student enrollment," including students who dropped out and avoided enrolling:
"…many students withdrew from Milan and notified Milan that although they intended to attend Milan, they no longer would attend for fear that Milan was going out of business," a filing reads.
Yasuda claims that Sinclair was in communications with Milan while the pieces ran, and that the stories stopped just after they started making payments.
"To me, this appears like extortion, but we will let the court figure that out; but one must ask – who else has Sinclair done this type of unethical business practice to?," Yasuda said. "It's not just a coincidence that once Milan made a $47,000 payment to Sinclair, they stopped running new hit pieces. The problem is they continue to damage our reputation by keeping these hit pieces online."