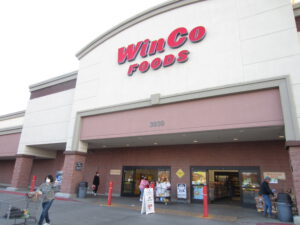 A Visalia woman is suing her former employer–WinCo Holdings, Inc.–for alleged discrimination and unlawful dismissal based on her status as a transgender person.
Wrongful Termination Alleged
The lawsuit, filed on behalf of Carlee MacRae by Visalia attorney Brett Abbott, also alleges WinCo engaged in a number of other violations of state employment law that amount to unfair business practices. The suit lists a series of 10 complaints against the Idaho-based grocery chain. WinCo operates stores locally in Visalia–where MacRae worked–as well as in Fresno and Bakersfield.
In addition to allegations of unfair treatment because of her gender, MacRae's suit also alleges her managers at WinCo further discriminated against her because of her acute depression, and did not make accommodations for MacRae following debilitating knee surgeries. Management also allegedly engaged in "jury duty" retaliation, failed to prove paid breaks and eventually fired MacRae because of her gender and her disabilities.
The suit has been assigned to Judge Nathan Ide in the Tulare County Superior Court. An initial hearing is scheduled for 8:30 a.m. on April 22 in Department 2 of the Tulare County Courthouse.
Abbott is currently on vacation and unable to comment on the case. WinCo Holdings, Inc. has yet to respond to a request for comment.
Bathroom in the Back
The suit's primary complaint regards an ongoing series of allegedly discriminatory incidents–as well as a generally hostile work atmosphere–that WinCo managers not only failed to prevent but also created.
According to the suit, MacRae's bosses told her to use a bathroom at the back of the store, while other employees were allowed to use more accessible facilities. The practice, according to the suit, caused MacRae to miss breaks and experience a sense of shame. Other employees, the suit states, would taunt MacRae when she walked to the back of the store.
"There he [not she] goes… off to the bathroom again," was allegedly a frequent comment.
When MacRae began wearing makeup to work, she would often face angry reactions from customers, but again management did not work with MacRae to resolve the situation, the suit alleges.
"You should expect some of that," MacRae's managers allegedly told her.
Carlee, not Carl
MacRae's decision to wear makeup also led, allegedly, to many of the store's employees questioning her about her sexual orientation, asking if MacRae was "gay now."
"Do you like boys or girls now?" was also a frequent inquiry, the suit says.
The suit also states management at WinCo "took exception" to MacRae's request to be called Carlee instead of Carl. Some of MacRae's supervisors, and fellow employees "bristled" at the idea of addressing MacRae as Carlee, it said.
The treatment of MacRae, the suit says, eventually led her to experience "a complete nervous breakdown" in early 2021, resulting in several months of disability leave. She was eventually fired on August 13, 2021, allegedly as a result of her gender identity and expression, and the resulting health problems.
Jury Duty Retaliation
In addition to the gender-based taunting and discrimination that purportedly led to MacRae's acute mental health crisis and her eventual loss of employment, WinCo Holdings, Inc.'s local managers are also accused of behaving "maliciously, fraudulently and oppressively" by not rescheduling MacRae's work periods while she served 10 days of jury duty in early 2021.
The suit alleges MacRae's supervisors required her to work from 5:30 p.m until midnight daily after already serving from 8 a.m. to 5 p.m. as a member of a jury. When MacRae requested time off to fulfill her civic duty as a juror, her supervisors refused, which the suit against them says is an additional violation of employment law.
The refusal to change MacRae's work schedule, the suit says, was also an additional retaliatory act in reaction to MacRae's expression of her gender. Abbot says his client's expression of her gender, the need for workplace accommodation for her disabilities following knee surgery, and her need for medical leave eventually led WinCo Holdings, Inc. to dismiss MacRae.
Unfair Business Practices Alleged
Ultimately, the suit against WinCo Holdings, Inc. also accuses the grocery giant of general violations of various labor laws not directly related to the allegations of gender discrimination.
Specifically, after undergoing corrective knee surgery MacRae was instructed by her physicians to take 10-minute sitting breaks for each hour spent standing. While the suit states that WinCo allowed those breaks, her employer required MacRae to clock off to avoid paying her. When MacRae went on disability leave, her employer "docked (her) attendance points." The practice was repeated when MacRae took time off under the federal Family Medical Leave Act, the suit says.
Additionally, the suit alleges WinCo Holdings, Inc. regularly deprived MacRae of the paid rest and meal breaks required by state employment law for all workers.
As a whole, these violations, if they are substantiated, amount to unfair business practices that are prohibited by state law, the suit says. It describes the alleged behavior as "unfair, unlawful and harmful to plaintiff, to the general public and defendant's competitors."
"Accordingly, plaintiff (MacRae) seeks to enforce important rights affecting the public interest, …" the suit states.
The suit seeks damages for lost earnings, as well as a punitive award.