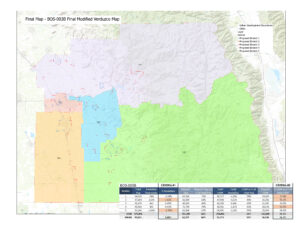 After years of planning — followed by a weeks-long whirlwind sprint to beat a looming hard deadline — Tulare County has a new political map reflecting the 2020 US Census count. The process, while resulting in boundaries that satisfied most participants during the mapmaking process, revealed racial and ethnic tension still simmers among Tulare County residents.
Quick Draw of New Boundary Lines
At its meeting Tuesday, November 9, Tulare County's Board of Supervisors adjusted boundary lines for the county's five supervisorial districts, fixing a political map that will guide voting here for the next decade, until 2031. The map reflects demographic information gathered during last year's population count, and it creates Hispanic voting majorities of greater than 55% in three districts to meet requirements of the federal Voting Rights Act, a criteria that became a source of contention as leaders gathered public input.
The supervisors' vote on November 16 was the penultimate step in a mapmaking process that began last year with the creation of the Advisory Commission on Supervisorial Redistricting. The process will end next week when supervisors formally adopt the map's final draft at their meeting on Tuesday, December 7, and the map will replace its predecessor 30 days later.
Extensive preparation was essential before actual mapmaking began, as mapmakers would work under a tight deadline to redraw the county's political boundaries once the feds let them know how much and where the county's population had changed since it was last counted in 2010.
"It only began when we received the census data September 29th," said John Hess, Tulare County's assistant administrative officer, who guided the mapmaking through its many steps. "It may feel like a long time, but it's only been five or six weeks since we began this process."
Information that went into the making of the new map was gathered during a series of meetings, meetings that apparently seemed to those conducting them to stretch off into eternity. At those sessions, commissioners on the Advisory Commission on Supervisorial Redistricting reviewed citizen-designed maps and listened to testimony about them, providing feedback on legality. The result was a draft maps that met both state and federal legal requirements that could be forwarded for consideration by the supervisors.
Commissioners also listened to citizens' concerns about redistricting and its possible effects on their neighborhood and communities, with the gathered information forwarded to supervisors to also aid their final decision. Some commissioners would even draw their own district maps, one of which would eventually become the supervisors' final choice.
Two Maps, One Goal
Among front-running designs still in consideration during the final stages of the data-gathering process, a trio of maps came to dominate planning discussions: the Kindschuh Map, the Equity Coalition Map and the Wells Map.
The Kindschuh and Wells maps bear the names of the two men who created them–Visalia resident Steve Kindschuh and Korey Wells of Springville–while the Equity Coalition Map was drawn by a demographer hired by a group of organizations working to ensure the county's majority group–Hispanics now make up 65.5% of the county's population–was properly represented in the county's final political districts.
The Equity Coalition's effort at finding political equity met with vocal opposition, however. The left-leaning Dolores Huerta Foundation played a key role in gathering demographic information, creating and promoting the Equity Coalition Map, and the group became the main focal point of contention for those who feared, as citizen commentator Joe Prescott of Springville put during a Board of Supervisors public hearing, a "Latino power-grab." Contributing to the unease was a threat of a lawsuit against the county should supervisors select a map activists felt did not provide adequate concentration of political power in Hispanic hands.
The sentiment expressed by Prescott, and less directly so by others, led many who opposed the Equity Coalition Map to throw their support behind the Wells Map, pitting the two as ends of a political separation among residents.
Wells Protected Communities First
According to Wells, ethnicity was an important factor in his map's design, with a goal of making sure Hispanic political influence was not diluted. Yet, community continuity–not skin color or culture–was his primary concern, he said.
"I think it's very important to ensure that the ethnic majority in this county is represented properly, so that's reflected in our districts," Wells said. "And what I did is, I didn't just want to, you know, make it about the ethnicity. I don't think that's proper. I wanted to focus on it being about communities and the people and how they flow … socially with their neighbors and how they conduct commerce."
Porterville City Councilwoman Virgina Gurrola, who protested the framing of the Equity Coalition Map she helped create as a political tool for Hispanics, agreed with Wells that the people should be the first consideration when drawing boundaries.
"I don't want to be political, because this isn't about politics," she said. "This is about the lives of people who live in Tulare County."
Gurrola said participating in any political process is seen as risk-taking by many Tulare County residents, and she expressed concern the supervisors' supposed lack of responsiveness to those who testified in favor of the Equity Coalition Map will stifle future participation by a class of people who are underrepresented in local political decision making.
"This is about individuals who have come forth and asked for you to hear them out during the commission meetings. These are people who came from disadvantaged areas who rarely speak out," she said. "Rarely. And why? Because they're worried about what may happen, the repercussions of that. But, they spoke out, and I was so happy to see them speak out, and then they're discounted."
Old Blood and New
Gurrola said those who participated despite their fears simply want to ensure the influence of their neighborhoods are not watered down by new political lines.
"They wanted to be in areas with other unincorporated areas very similar to them, including (the area southeast of the) city of Tulare. That's all they were asking for, to recognize," she said. "This isn't a 'Latino power-grab,' as it's been said. This is about people wanting to be at the table, to be part of the decision-making process to make their communities better."
The Coalition Equity Team existed to "make sure the process worked properly" without politics, Gurrola told the supervisors, and it was not an attempt by individuals who do not reside in the county to change Tulare County's political balance.
"I am a fourth-generation here in Tulare County," Gurrola said. "I am not an outsider. Neither were the people who were part of that coalition team."
Eventually, perhaps because of the tension the apparent opposition between them created, both the Equity Coalition and Wells maps would be discarded by supervisors. They would discard the Kindschuh Map eventually, as well, opting instead to modify a different map entirely, one submitted by Jose Verduzco, a member of the advisory committee who represented District 4.
Despite the racial concerns driving much of the mapmaking discussion, Wells expressed his satisfaction with the process, the wide-ranging public participation and discussion it fostered, and, in the end, its ability to produce a fair map.
"I have lived here long enough and been around the county enough to know, kind of, the corridors and where the people go to," Wells said. "I don't really know much about the entire history. I haven't lived here long enough to see it, all the issues that have happened in the past and all the struggles, but it's definitely a flourishing county and it looks like we're moving in the right direction."
Equity Coalition Satisfied
Tulare County residents can rest assured the final map selected by supervisors will not result in a lawsuit, at least not one initiated by the Equity Coalition or its member organizations.
"We've had a chance to review and analyze the map. In general, the Equity Coalition is pleased with the outcome," coalition attorney Margarite Melo said. "While it isn't perfect, it is a vast improvement of the status quo and will likely result in greater diversity on the board of supervisors in the next couple of election cycles."
Redrawing political boundaries in the wake of the 2020 Census had to result in a product that left no segment of the county's population without adequate opportunity to fully participate in guiding the area's future.
"This process was never about one single map, despite what certain segments of the community were saying," Melo said. "It was about selecting a map that would lead to fairer representation for all voters, not just the proverbial 'good old boy' network. We think that this map accomplishes that goal."
The Equity Coalition, she said, will now focus on finding and supporting local political candidates.
Hammering the Details
Once hours of debate had reduced months of work to just three options on the table–the Wells Map, the Kindschuh Map and the Verduzco Map–supervisors turned to the fine details of them, moving lines to satisfy state and federal law, as well as their own criteria, mainly keeping areas that function as single communities within the same districts. This, it soon became clear, would lead to a homogeneity among the designs.
"We have–the board has, and staff and the commission have–engaged in a very extensive review of, as I mentioned earlier, 52 maps. After the discussion of that, after the review of that with the board and the community, we have really incorporated as many of the public comments as possible, and, in addition, consistently complying with all the various different eight-point criteria," said Hess. "That's why it's no coincidence that several of these maps look so similar to each other. Because to accommodate all those requests or as many of those requests as we can, and doing so in accordance with state and federal law, there's really kind of a few configurations that really make sense."
The trio of maps that remained at the end of the process survived because they best met the demands of both the law and maintaining local communities.
"I think we've discussed what we need for the citizens of Tulare County," said Supervisor Dennis Townsend, who represents District 5. "I think we're going to tinker with these top three, and these seem to be the top three based on the eight criteria."
District 2 Supervisor Pete Vander Poel called for cutting the editing process short and cutting to the chase.
"We went pretty well in detail in this, and I can imagine the suggestions are going to be fairly consistent throughout the remaining maps. Is there a point to continuing to each of the remaining maps?"
Cutting to the Chase
After spending considerable time working on the details of the first of the three remaining maps, it quickly became clear to the supervisors that reviewing the other two in a similar manner would mean redoing work they'd already accomplished.
"These nitty-gritty details seem like they're fairly consistent points in maintaining communities of interest and making sure that we are keeping communities whole, and having clearly identifiable boundaries, minimizing the deviation," Vander Poel said. "So it really is probably going to be the same exercise we go through for each of the other two remaining maps in a sort of duplicative process."
Not unlike the work of the fictional Dr. Frankenstein, the supervisors found themselves taking bits and pieces of different designs to make what would essentially be a new and unique map.
"We're taking the kind of the best of every map that's been out there," said Townsend. "We're putting names on them, but by the time we're through with them, it's just going to be a community input map is what we're going to end up with. From everything we've received we're going to morph it into one, so I'm OK with moving ahead with any of these three."
With that sentiment in mind, the supervisors made one final close review of what had been the Modified Verduzco Map prior to the detailed refining process.
"What I want to accomplish here, what I think is an effective way to use our time–we did this with the commission–is to really go in detail, go at the smallest scale we need to, because as we make these changes, and later on when the board adopts their map, that will be the map for 10 years," said Hess. "So every little precinct, every little block will be important."
The Community Collaboration Map
Once every I was dotted and every T was crossed, supervisors voted unanimously to adopt the result, a design they termed the Community Collaboration Map.
"Our final map, I believe, distributes the population of Tulare County in a fairly equal manner between the districts so population equality is achieved. I believe we are legally compliant with three 55-percent-plus Hispanic (citizen voting-age population) districts," said Vander Poel. "All five districts are geographically contiguous. I believe that the communities of interest were maintained as they were expressed by the communities throughout this process."
He also liked the idea that portions of many of the maps submitted by members of the community were still present in the final design.
"I also think it's kind of cool that some of the key components of various maps that were considered and submitted along this process," he said. "You can see characteristics of those maps in the final map."
Despite ideological clashes that arose, Supervisor Townsend said, no one was ignored as the map arrived at its final form.
"What we're looking at right now, what we're getting ready to vote on, truly is a community collaboration map from all communities from across the county," he said. "All the voices have been heard."
Unprecedented Public Participation
Making a map that satisfied as many county residents as possible while fulfilling all the legal requirements was a task that required effort from a wide array of people working on various aspects of the process, some paid employees and some as volunteers. All, according to District 1 Supervisor Larry Micari, deserve credit for the end result.
"You guys did a tremendous job, took a huge volume of information and provided us some very good suggestions in order for us to go to the future, and I think this map will take us there," he said. "It's truly an input of the community, because there were a lot of public comments made that chose one map over the other, but we still incorporated some of those choices and those requests in there. This is truly a map of our community."
Board Chair Amy Shuklian, who represents the majority of Visalia in District 3, was impressed by the high level of citizen participation the mapmaking represents.
"In all my 14 years of elected office, this might be the most public participation I've seen on an agenda item, and I appreciate that, and I'm glad we were able to provide that opportunity for folks," she said.
Shuklian also addressed the participation of the Equity Coalition, saying she believes the county has more than met their needs.
"They asked us to help empower our Hispanic communities to have a better chance of electing leaders of their choice," she said. "They asked us to adopt boundaries that recognize the facts that (were) revealed by the 2020 Census, namely that 65 and a half percent of Tulare County population self-identifies as Hispanic or Latino, and Hispanics make up 51 percent of the citizen age voting population countywide. So, I think that the boundaries of our final maps do that by establishing three districts with over 55% H-CVAP in each boundary, 1, 2 and 4, and one even has over 60%."
One Last Vote
Because the map will guide the distribution of public power and resources for the next decade, the process of codifying it into law is a careful one. Now that a final map has been chosen, the supervisors must ratify that decision with a final vote to adopt the aptly-named Community Coalition Map.
The final vote is scheduled for December 7, the next regular meeting of the supervisors following the Thanksgiving break. The vote will take place following a final public hearing to gather citizen comments on the map and the mapmaking process. The Community Coalition Map becomes the officially adopted map of record 30 days later.