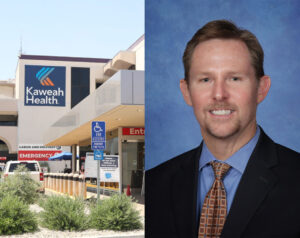 This article was updated to include a comment from Kaweah Health.
Kaweah Health CEO Gary Herbst defended his hospital stating that though a recent state investigation "had value," the investigators were "incompetent" and "on a crusade." Herbst made the remarks in a wide-ranging interview with the Valley Voice.
Despite statements from Herbst and hospital officials that the state's investigation of the hospital was finished, state officials told the Voice that the investigation had not closed.
State health officials say the investigation into the mishandling and theft of drugs by a physician at Kaweah Health Medical Center, as well as the overdose death of a contracted employee who died while using stolen drugs in a public bathroom in the emergency department has yet to be concluded.
The news directly contradicts several assertions by Kaweah Health officials and Herbst, who in July announced a successful end to the state's investigation and a finding of substantial compliance by the district.
The announcement was made via the district's website and is one of only two official statements on the investigation and the events leading to it made by the district. In his initial announcement, Herbst also stated state regulators would not conduct a return visit to the district. It is not now clear if that statement is true.
Kaweah Health officials told the Voice that they had fully cooperated with the investigation and that no items remained.
"Kaweah Health has fully cooperated and responded to any/all CDPH requests. At this time, we are not aware of any remaining or outstanding items related to the two investigations in question," a statement read.
No End In Sight
A representative for the California Department of Public Health (CDPH) confirmed that agency's probes of the Kaweah Delta Health Care District (KDHCD) continue after denying a Voice request for documents surrounding the investigation.
"These investigations are ongoing," wrote Mark Smith, an information officer for CDPH. "Any details about any ongoing investigations are kept confidential until the investigation is complete and findings are issued to the facility."
Smith's statement did not indicate when the investigation would end, and he declined a follow-up request for information on the status of the investigation.
"Once findings from an investigation have been finalized and issued to the facility, records are provided publicly on our Cal Health Find database," the CDPH statement continued. "You are also welcome to check back with us periodically on these investigations and if any records are available. This concludes CDPH's response to your request."
Herbst Critical of CDPH Investigators
In the wake of his statements that KDHCD was in the clear, Herbst described the response by regulators–both the CDPH and the Centers for Medicare & Medicaid Services (CMS), which ordered the investigation–as "over the top."
He was personally critical of the individual investigators assigned to the case, who performed a weeks-long probe beginning in March.
"These guys were on a crusade," Herbst said. "They were on a mission."
In denying the facts in the 250-plus pages of findings issued by CMS were correctly reported, Herbst claimed CDPH investigators were not qualified to perform the investigation of his district.
"It (being investigated) was incredibly frustrating because these people were incompetent," he said. "I will tell you they were incompetent."
No Legal Representation for District
Specifically, Herbst felt investigators were not quick enough to comprehend his explanation of events or his statements of fact during sessions with them, and he felt their understanding of the complex series of incidents leading to the investigation was inadequate.
"It's the surveyors who are just peppering you with questions, and I'm answering it, particularly (questions about) this anesthesiologist, and she (the state investigator) would say that, and I would say, 'I didn't say that. Here's what I just said,'" Herbst recalled of a session with a CDPH investigator. "And she's, 'Well, I'm so confused. I can't remember all this.' Well, why don't you write it down? Maybe then you wouldn't be so confused."
Herbst and others connected to KDHCD did not record audio or video of their interviews with investigators, nor did they have legal counsel present during questioning.
"We don't do that," Herbst said.
CEO Says Investigators Lied
Information contained in the investigative report–the result of review of documents and videos, review of policies and procedures, criminal reports and eyewitness interviews–produced by CDPH at the request of CMS should not be considered by the public to be a correct accounting of events, Herbst said
"You need to be careful that you don't read the CMS reports as factual," he said.
The CMS report, Herbst said, is a fundamentally flawed document that was carelessly produced and apparently intended to harm Kaweah Health.
"That report is full of hundreds of misstatements, errors, just false statements, misinformation attributing quotes," he said.
Herbst claims investigators altered witness testimony and in some cases invented it entirely.
"The people with numerous witnesses where those quotes, those statements, were never made," Herbst said. "And yet they were documented in the CMS report."
Investigation Caught Hospital Leaders Unaware
Herbst said the motivation for conducting what he called an "unprecedented" investigation, why state investigators were putting pressure on Kaweah Health he felt was unnecessary, frustrating and intrusive.
"Why? I don't know why," he said. "We have never, ever experienced anything like this before."
To his knowledge, Herbst said this is also the first time a worker has died of an overdose of drugs stolen from the hospital's supply.
After the overdose death of the medical transcriptionist on December 22, 2020, Kaweah Health reported the death, and the associated theft of drugs to CDPH, and expected that to be the end of the incident. When investigators arrived in March, it came as a surprise to the district's leaders.
"…Notifying CMS, which they never told us they were going to do, that was unexpected," Herbst said. "In late March, all of a sudden six surveyors from– They say CMS, but they're actually from CDPH."
For nine days, the six state investigators worked 15-plus-hour days to complete their evaluation, Herbst said.
Herbst Wanted Oversight of Investigation
Further, Herbst criticized the CDPH investigation for not informing hospital representatives who would be interviewed. He also expressed upset that no one from the hospital was allowed to be present with witnesses as they gave their testimony to the investigators.
"They (CDPH) conduct secret interviews with multiple, multiple people. We're not allowed to be present," Herbst said. "So they're interviewing employees, residents, doctors. We have no idea what's being said and what's being recorded."
Herbst claims several of the people interviewed during the course of the CMS-ordered investigation told him the report does not reflect what they actually told investigators. Herbst also said his own testimony was misrepresented.
"I can say that there's quotes from me that I (made a statement). And I said, 'I didn't say this,'" he said. "And I asked the people that were in the room with me, 'Did I say this?'"
Herbst Says Investigation Was Needed
Herbst agrees in principle that an investigation was warranted following the confirmation by his staff that drugs were stolen from the hospital supplies, that it resulted in the death of the worker in the ER, and a second death the same night–that of an ER patient whose drug supply was stolen by the worker who would later die–came under unusual circumstances.
"I mean, don't get me wrong. I think there was value that came out of this spot," he said. "I do think we have tightened things up. We're a better organization."
Yet the Kaweah Health CEO still maintains the regulatory response was out of proportion.
"But I will tell you that what they did was a complete overreaction in my mind, because, again, two events," Herbst said. "We have no history in this organization of having these types of events."
'Drug-Infested Organization'
The CDPH report included a look into two certified registered nurse anesthesiologists practicing at Kaweah Health Medical Center who were discovered to be using illicit drugs, one of which was suspected of intoxication while working with patients and relieved of her duties. The other died of an overdose at home using drugs not obtained at her place of work.
Herbst felt it was unfair on the part of investigators to include those incidents in their findings.
"CMS pile that on and said, 'See, you're a drug-infested organization,'" Herbst said. "Another CRNA, home with a friend, they overdose. They never got their drugs from the hospital. As soon as we found out about it, reported (the incident) to the police, fired her."
CMS was also concerned the district allowed a CRNA with a previously documented substance abuse problem to practice at its hospital, and investigators included a summary of that in their report. The woman had completed a five-year treatment program, according to Herbst, and the hospital performed due diligence in checking her background. He was unsure if the CRNA who had undergone treatment was the same one who later died at home of an overdose.
"But again, I'm in this interview and I'm saying, 'And tell me how we handle those inappropriately,'" he said.
Herbst, Colleagues Angered by Investigation
Hospital staff, Herbst said, felt personally insulted by the CDPH's lines of questioning and the resulting report.
"I mean, they painted us like we were some drug-infested– Like, drug abuse was rampant here, and we were putting patients' lives at risk every day," he said. "And it made us angry during the survey. Where's your evidence?"
Like the investigation into his organization's conduct, Herbst's emotional distress regarding it is ongoing.
"I'm angry and upset," he said. "It's coming to the state and the federal government."
Herbst described an atmosphere of hostility among staff at Kaweah Health while the half-dozen state agents conducted their inquiry into the two deaths that occurred on December 22, 2020, and looked into the theft of drugs in multiple departments in Kaweah Health Medical Center by at least two medical workers–an anesthesiologist and the medical scribe who died in the ER bathroom. Both were contracted employees not directly employed by the district but granted practice privileges at its facilities.
'Angry Through That Entire Survey'
KDHCD's CEO also lashed out again at the individuals who performed the CMS-requested investigation.
The local policy and enforcement failures that resulted in the death of a worker and a patient, he said, should not be seen by them as part of a wider problem. Two nurse anesthesiologists with known substance-abuse problems who relapsed while working at Kaweah Health, the death of the scribe, the theft of federally-controlled narcotics for personal use by a physician, failure to uphold standards of monitoring and control of dangerous pharmaceuticals, repeated reports of used needles and empty drug containers in employee-frequented bathrooms, all these incidents and others mentioned in the investigators' report should be considered unrelated, according to Herbst.
While the CMS–an arm of the US Department of Health and Human Services–initiated the investigation of Kaweah Health, it was a lack of professionalism on the part of agents of three local CDPH offices that caused what Herbst says is a deeply flawed and factually inaccurate report of its findings.
"Actually, the federal government was never involved in this when they delegated to the state and the incompetency that they sent here, right?" Herbts said. "We were angry through that entire survey, the false accusations they made, the way they approached this (their investigation), that they took these two isolated instances, tried to pull in other stuff where we handled it beautifully."
Media's Reaction Harmful, CEO Says
Herbst admits things got out of control in several ways under his watch, but he is also emphatic that the organization was treated unfairly by regulators.
"But, yes, we had an impairment (of a medical worker on the job), and we had two people that died at home from a drug overdose," he said. "But they (CDPH) piled it on to try to paint a picture of widespread illicit drug use."
He believes the public trust in Kaweah Health has been and remains at a high level. The findings of CDPH and CMS have not created unease among the district's voters, and the public should remain unconcerned and will remain unconcerned as long as Kaweah Medical isn't subjected to undue scrutiny by the press.
"I don't think it (the CDPH report) will (impact Kaweah Medical's image negatively). No," Herbst said. "Unless the media keeps the story alive and just continues to make a big deal out of it. No, I don't think it's going to harm Kaweah's reputation at all."
Public Still Trusts Kaweah Health
Members of the public, Herbst said, feel bad a worker at Kaweah Medical died by his own hand–Herbst maintains the death was intentional, a mid-shift suicide, and not an accidental overdose by someone described by close colleagues in the CDPH report as a known chronic drug-user–but they are also forgiving despite not having a full understanding of the deaths, thefts, other incidents, and the events surrounding them.
"People feel bad," Herbst said. "The community feels bad that a person died, but they also understand addiction and how healthcare workers are at the top of the list in terms of those that are most vulnerable to it."
The public at large, Herbst maintains, continues to admire Kaweah Health as an organization and provider of healthcare and his role as its leader during this crisis.
"I think the community chalks it up that the hospital did the right thing. It self-reported. It took action," he said. "I've been actually praised as an organization for transparency and our response to it."