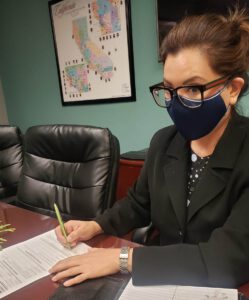 After 10 years as a private citizen, former Democratic state assemblywoman Nicole Parra is ready to reenter the political arena, this time setting her sights higher as she aims to take over Rep. David Valadao's (R-Hanford) seat in the US Congress.
A Bakersfield Native
Parra–who served as the assembly member for the 30th District from 2002 until 2008, when she reached her term limit–says the southern portion of the district, specifically the area in Kern County, isn't getting the federal representation it requires.
"This is a Kern County seat, and it needs someone with local ties," Parra said.
The 21st Congressional District includes all of Kings County, as well as portions of Fresno, Tulare and Kern counties. A native of Bakersfield who grew up in a small adobe home there, Parra claims she is uniquely qualified to fill the CD-21 seat.
"I'm the only candidate who's lived in all four counties," she said.
Incumbent Valadao is a Hanford native who held the CD-21 seat from 2013 to 2019 before being unseated by Democrat T.J. Cox. Valadao, in turn, unseated Cox in 2020 and was sworn back into office on January 12.
Parra Started Young
Parra began her career in politics at the tender age of 22, when she started work as a staffer for Congressman Cal Dooley. She eventually became Dooley's district director at age 28 in 1998, the same year she received her law degree from the Catholic School of Law in Washington, DC. She is also a 1992 graduate of UC Berkeley, holding a bachelor's degree in economics.
Her work for Dooley continued until she joined the State Assembly in 2002. Following her time in the legislature, Parra was appointed director of the Governor's Regional Development Initiatives under the state's Business, Transportation and Housing Agency. She later founded and ran her own consulting firm.
"I am the worst negotiator," she said of her time as a consultant. "It just wasn't my thing. I ended up having more pro bono work."
She became an adjunct professor at Cal State Bakersfield in 2014, teaching political science and civil liberties classes, then took over management of the Measure J campaign for the Kern Community College District. The measure passed by a two-thirds majority, netting the district some $415 million.
Crossing the Political Divide
Most recently, Parra was manager of state government affairs for Ohio-based Marathon Petroleum, a position she says gave her unique insights into one of Kern County's biggest industries.
"I loved it," she said of her time with Marathon. "I basically got a masters in petroleum and engineering."
Yet, despite how much she enjoyed the oil industry, the schism she witnessed in American politics during the Trump years has Parra rethinking her personal priorities.
"I am very comfortable with this company and could retire here," she said. "I can't live with myself without trying to pull together Democrats and Republicans."
Bipartisan Track Record
Parra also points to her political past as proof she is the right representative for a district that sometimes votes Democrat but always leans toward conservatism.
In 2008, when Parra departed the Assembly, she endorsed her Republican challenger from the 2006 election over her own party's preferred candidate. Then, in 2020, she endorsed Republican Carly Fiorina's unsuccessful bid for a seat in the US Senate.
Valadao, she says, doesn't present the qualities as a representative she feels the southern part of the CD-21 needs. He's also a long way away from Kern County.
"Valadeo is a good guy, but he has no connections," Parra said. "We rarely see him down here in Kern."
Valadao showed his own bipartisan nature as one of only 10 GOP members of Congress to vote for the second impeachment of former President Donald Trump following the events of the January 6 insurrection. Yet, Parra takes credit for her opponent's vote to remove Trump.
"He thought it was the right thing to do, but he saw me coming up behind him in the mirror," she said.
Parra filed her intent to seek Valadao's seat in December of last year.
Politics of Confrontation
Given the recently contentious nature of US politics, Parra didn't make the decision to return to politics lightly. She eventually put her discomfort aside because of her need to repair American democracy, or at least to try.
"You weigh various things before you make a decision," she said.
Parra says the CD-21 is a "competitive" seat, and, because of the pandemic, starting her campaign against Valadao before he'd even been sworn in was not too early a beginning. In fact, she thinks she should have started sooner.
"I can't walk right now and go door-to-door," she said. "I wish I had a little more time. Because of COVID, it will limit me in the next few months."
But, given that the seat has ping-ponged between the two establishment parties in recent elections, her "reach-out" brand of politics will give her a distinct advantage over the incumbent, Parra says.
"I walk districts," she said. "I know what it takes to win. He doesn't do those things."