The trial of Healthcare Conglomerate Associates (HCCA) CEO Dr. Yorai "Benny" Benzeevi could become a high-profile case garnering nationwide attention, as former attorneys for disgraced movie producer Harvey Weinstein and Casey Anthony — a Florida woman accused and acquitted of murdering her 2-year-old daughter — join his legal team.
Benzeevi's company managed the Tulare Local Healthcare District (TLHCD) hospital, Tulare Regional Medical Center, from 2014 to 2017.
Benzeevi's Arrest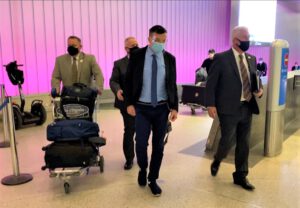 Benzeevi and his former attorney Bruce Greene, as well as former HCCA CFO Alan Germany, were accused by the Tulare County District Attorney's Office of a series of crimes with the intent to enrich themselves by defrauding the district.
Benzeevi now faces charges including theft, embezzlement, money laundering and misappropriation of government funds, among other less serious charges. If convicted on all counts facing him, Benzeevi may be sentenced up to 40 years of jail time.
According to unconfirmed media reports, Benzeevi allegedly fled to Israel, where he holds citizenship, on March 1, 2019. The indictment filed against him by the DA confirms their belief Benzeevi left the US on that date and had not returned as of the date of the August filing. Benzeevi was eventually located in the Philippines.
Working with the FBI, the DA was able to have Benzeevi's passport revoked, which reportedly resulted in his agreeing to return to the US to face prosecution. He was taken into custody at Los Angeles International Airport on December 3, where he was greeted by officers of the DA's office and returned to Tulare County in chains.
Released on $4 Million Bond
The day after his arrest, Benzeevi was released from custody after posting a bond to cover his $4 million bail amount. Court documents also show he agreed to appear at future hearings that day. Other than procedural filings, the case was dormant until January 6, when a demurrer was filed on Benzeevi's behalf — similar to a motion to dismiss — that will be considered on February 17.
Benzeevi will also be formally arraigned that day. Both hearings will be held in Department 3 of the Tulare County Superior Court, overseen by Judge Jennifer Shirk.
In total, Benzeevi faces 46 charges, including 18 counts of criminal conflict of interest, 15 counts of embezzlement and falsification of accounts by a public officer, two counts of grand theft of personal property, three counts of using an official position for personal gain and two counts of money laundering. He is also charged with single counts of failure to disclose a campaign contribution, failure to file a statement of economic interest, conspiracy to commit a crime, conspiracy to defraud TLHCD of property and filing a false or forged document.
Big Name Defense
A hearing also scheduled for February 17 will determine if a trio of out-of-state attorneys will be allowed to join Benzeevi's defense team.
Among the three are Ronald Sullivan and Jose Baez, both members of the legal team that unsuccessfully defended former movie producer Harvey Weinstein on multiple charges involving decades of sexual assault. Baez also served as defense counsel to Casey Anthony.
Sullivan eventually removed himself from the Weinstein case after facing criticism from the Harvard community, where he served as a faculty dean before being relieved of the position amidst controversy. He continues to teach law at Harvard.
Sullivan is also known for his defense of low-income defendants who would not otherwise be able to afford the services of a private attorney.
Baez and the Anthony Case
In the murder case against Casey Anthony in 2011, Baez was able to successfully argue 2-year-old Caylee Marie Anthony's body was hidden by the girl's grandfather after the toddler drowned in the family pool. Casey Anthony was acquitted of first-degree murder, aggravated child abuse and aggravated manslaughter of a child. She was found guilty of four counts of lying to police.
However, Baez was also accused by the lead investigator he had hired to look into the Anthony case of exchanging his legal services to Anthony for sexual favors. In an affidavit filed in 2016 in relation to a bankruptcy case filed by Anthony, investigator Dominic Casey testified he had seen Anthony running naked through Baez's legal offices. He also alleged Baez told Anthony in his presence that she owed him additional oral sex after he performed a service for her.
Baez has denied these allegations, and no complaint has been filed against him with the Florida State Bar Association.
The attorney also acted as defense for the lead detective in the investigation into the killing of 17-year-old Trayvon Martin by George Zimmerman, a case with racial overtones that held the nation's attention in the early 2010s.
Media Interest
Another recent filing could signal a wider interest in the Benzeevi case by the national media.
On January 5, Glass Cannon Inc. filed a motion with the court requesting permission to film the legal proceedings against Benzeevi. The request signals the company's intent to "photograph, record or broadcast" events. A final ruling on the request has not been entered into the docket as of publication time.
Glass Cannon is a documentary film production company owned by Pulitzer Prize-winning investigative journalist Ronan Farrow, who is working on a series of films with media giant HBO.
In 2019, Farrow — the son of actors Mia Farrow and Woody Allen — and Adam Entous revealed in The New Yorker that Benzeevi hired an Israeli intelligence company to interfere in the recall election of Dr. Parmod Kumar. Farrow was also among the first journalists to report on the sexual assault allegations against Weinstein.
A similar request from KFSN TV-ABC 30 was filed and granted on December 31.