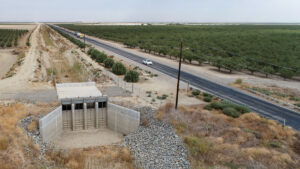 The American Council of Engineering Companies (ACEC) has selected two Provost & Pritchard Consulting Group's projects to receive awards in their California 2021 Engineering Excellence Award competition.  The McMullin On-Farm Flood Capture and Recharge project was selected for a merit award while the Main Canal Reservoir for the Modesto Irrigation District (MID) was honored with a commendation award. The awards will be presented to the firm at the Engineering Excellence Awards Virtual Celebration on February 4, 2021.
According to ACEC California, the Engineering Excellence Awards competition has become an effective tool for engineering and surveying recognition for projects that benefit local communities and California as a whole.
"We are honored to be recognized by ACEC California with an Engineering Excellence Award for the seventh year in a row," said Ronald Samuelian, president of Provost & Pritchard.  "Our staff work diligently to provide our clients with innovative projects that meet their specific needs, and we are proud of how the two ACEC California projects recognized this year demonstrate that innovation."
The McMullin On-Farm Flood Capture and Recharge project implemented large-scale flood flow capture to recharge water onto 5,000 acres of actively farmed land to provide groundwater recharge and mitigate chronic flooding of downstream areas, including Disadvantaged Communities.  In addition to flood protection, the project helps to mitigate groundwater overdraft by percolating high quality surface water in an area without surface water supply.  The merit award from ACEC follows up awards previously won by the project, including awards from the American Society of Civil Engineers' (ASCE) Fresno and San Francisco chapters.
"Working with Provost & Pritchard on this project has been an excellent experience and exceeded our highest expectations," said Paul Peschel, general manager for the Kings River Conservation District.
The Main Canal Reservoir is a regulating reservoir at the head of Lateral 3.  The bifurcation of Lateral 3 from the Main Canal is the first major diversion off the Main Canal, where approximately one-third of the flows within the Main Canal upstream are diverted into Lateral 3.  The objective of this project was to better manage the water supplies distributed through the MID Main Canal by more closely matching the supplies ordered from Modesto Reservoir with the actual demands in the irrigation system.  Re-regulation of the flows in both facilities allow flow fluctuations to be captured and the system's operations to be better coordinated.
"We were very pleased with our experience with Provost & Pritchard and the final project that will better manage the water supplies distributed through the Main Canal," said Chad Tienken, civil engineering manager for Modesto Irrigation District.
Established in 1968, Provost & Pritchard Consulting Group has a strong tradition of engineering and consulting excellence throughout California.  With office locations in Fresno, Clovis, Visalia, Bakersfield, Modesto, Los Banos, Chico and Sacramento, the firm features a mix of seasoned professionals, complemented by younger staff with fresh ideas. Provost & Pritchard specializes in civil and agricultural engineering, environmental and land use planning, hydrogeology and geology, surveying, and construction management services in the areas of water resources, municipal infrastructure, agriculture, site development, and environmental compliance.  For more information, visit www.provostandpritchard.com or email [email protected].