A press release written by Mary Jane Galviso, Director,
Rural Communities Resource Center (RCRC). Valley Voice will be doing a follow-up article next week.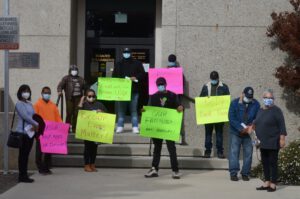 Every Friday at noon, rural residents from northern Tulare County and southern Fresno County line-up for the weekly drive-through community food distribution. Food, Our Right! (FOR) is a program by the Rural Communities Resource Center (RCRC) based in Orosi and operating since 2015. RCRC is a 501(c)(3) community-based organization (CBO) nonprofit serving residents in the rural communities of Orosi, Cutler, East Orosi, Yettem, Sultana, Monson and Orange Cove.
For months, RCRC has struggled to keep up with the growing numbers of rural residents who show up. The winter season has greatly increased the numbers of agricultural workers who must turn to community food sites such as FOR to feed their families because there is little to no more work in the surrounding fields and orchards.
To start its community food program, RCRC applied to both the Central California Food Bank (CCFB) in Fresno as well as to FoodLink for Tulare County, Inc. in Exeter. Its application to become a community partner agency with CCFB was soon approved.
However, on the county level, FoodLink rejected RCRC's application saying they were "at capacity." For months, both FoodLink staff and its board president, Rie Reniers, have refused to meet with RCRC to discuss exactly what they mean by "at capacity" or discuss withholding of USDA food commodities for the rural residents RCRC serves.
Frustrated with Reniers lack of response, RCRC has gone before the Tulare County Board of Supervisors twice to appeal for its help in order to receive USDA food commodities. FoodLink is Tulare County's designated food bank because it holds the Memorandum of Understanding (MOU) with the State of California.
After RCRC's first request for help in front of the BOS, Board Chair Pete Vander Poel III advised RCRC to contact Don Williams, Director of the Food Distribution Unit for the California Department of Social Services. When reached by phone, Mr. Williams expressed surprise that the County would refer the matter to him. Although he expressed deep concern, he stated that there was "nothing we (the state) can do since this is out of our jurisdiction." His office encouraged RCRC to work with local authorities to have FoodLink release USDA commodities. After all, he said, our agency "is pushing a great deal of food into Tulare County" so lack of food cannot be the reason for withholding USDA commodities.
In a response email to RCRC Board president, Mayda Lutap, Board Vice-Chair Shuklian stated that, "Unfortunately we have no jurisdiction over the decisions Food Link makes."
FoodLink has been providing food from the United States Department of Agriculture (USDA) since 1984. As the largest food distribution agency in the nation, FoodLink ensures food is on the table for 400,000 California families who need it most.
This is the dilemma that RCRC faces as it struggles to provide for the basic food and nutritional needs of its rural residents: Both the state as well as the county claim they have no jurisdiction, and therefore, cannot help RCRC obtain USDA commodities from our county food bank, FoodLink.
This means that rural families who depend on the Rural Communities Resource Center's food distribution program will be looking at a Thanksgiving holiday without turkey and pumpkin pie.