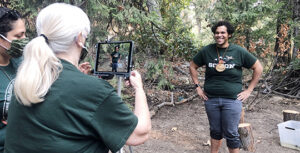 This month marked the beginning of SCICON's virtual tours for students in schools scheduled to visit the outdoor education program this fall. While the campus remained closed to visitors for the latter half of the spring semester, SCICON connected with students through fun and educational videos. As the new school year begins and the campus remains closed due to restrictions imposed by the COVID-19 pandemic, SCICON naturalists are expanding outreach with virtual tools to cover key NGSS standards, SCICON traditions and songs, and the exciting world of the school's Raptor Center and Discovery Room.
SCICON Director Dianne Shew reports that, through custom Zoom sessions, students are introduced to the outdoors with lessons in aquatics, ecology, forestry, and geology, and visits to the Phyllis Wall Museum. Last week's virtual participants included students at Olive Street School in Porterville and Charter Home School Academy in Visalia. September participants include classes from Porterville, Visalia, and Traver.
Illustrating the successes and challenges of the new distance-learning program, one student said it best, "First we learned about aquatics and the animals that live in water. Next we learned about trees and different animal skulls. Then we got to see the museum and we also got to see Charlie the vulture. Lastly, we went on a trail, but the wifi internet wasn't working."
Porterville teacher Eve Conway added, "Even virtually, the students learned vocabulary and made connections to the Earth. Thank you so much for bringing SCICON to us!"
Fifth- and sixth-grade classes interested in receiving virtual lessons from SCICON naturalists are encouraged to contact Dianne Shew at [email protected].