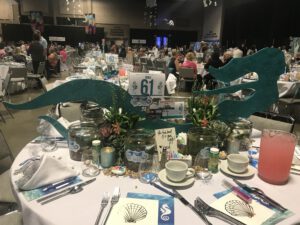 A Press Release from Kaweah Delta
VISALIA – They say laughter is the best medicine and on Sunday, Oct. 20, nearly 1,000 people found that to be true at Kaweah Delta's beloved 8th annual Pink Tea Party in Visalia.
The event's keynote speaker Mack Dryden, a two-time cancer survivor, who has who has appeared on The Tonight Show several times, along with shows such as The Guardian and JAG, inspired hope through laughter as the community came together to celebrate those whose lives have been touched by all types of cancer.
"If you have anyone dealing with cancer, please try to keep a sense of humor and a good attitude," Dryden advised. "It can do amazing emotional things for you, as well as physical things. It can lower your blood pressure, it can boost your immune system and, they recently found out that laughter actually releases cancer-killing agents in your system."
The 8th annual Pink Tea Party once again transformed the Visalia Convention Center with the "Under the Sea" themed event with giant sandcastles, sea bubbles hanging from the ceiling, a giant-sized clam, and mermaids on the stage. Going with the theme, many table centerpieces had fishes in them. A few guests, Cecilia Sweeney and her daughter Taryn, of Lemoore, even dressed up as mermaids. "We come every year and as soon as we're invited, we start looking for something to wear," Cecilia said.
Inspiring patient stories were shared, including that of Eric Anderson, of Visalia, who was diagnosed with cancer in May. Pretty quickly after receiving radiation and chemotherapy, he decided to begin providing crazy socks, something he loves wearing, to those who care for cancer patients. "Yeah I have to be here, but they choose to be here," he said. "My 26 years of service in the Air Force is nothing compared to what they do and continue to do for patients."
The event included entertainment, opportunity drawings, and the always touching and tearful, walk of hope honoring those who have fought or have lost their battle with cancer. Roses are sold for the walk and proceeds from the sale go to the Lost Girls Fund created by the Lost Girls Motorcycle Club. If a low-income woman is in need of a mammogram and cannot pay for it, the fund pays for the mammogram at the Kaweah Delta Breast Center. Since it was established, the fund has raised $153,000. This year, was a hard one for the ladies, who found themselves honoring one of the club's founders, the late Catherine "Cat" Flaherty, who passed away in September after a battle with multiple myeloma. The club dedicated their fundraising motorcycle run earlier this month to Cat.
"I'll always remember her and love her forever," said "SideCar" Cindy Dupis, another founding member of the club. "You know we don't get to meet all the patients who have benefitted from our fund, but when people do come up and thank me and say, 'I benefitted from your fund,' or 'My mother benefitted from your fund,' we are in awe of that."
Since 2011, Kaweah Delta's Pink Tea Party has sold out every year and grown from 100 to nearly 1,000 attendees.
Located at 4949 W. Cypress Ave. in Visalia, The Kaweah Delta Breast Center is dedicated to comprehensive imaging services for women and is staffed with mammography technologists with experience in breast imaging. Services provided include everything from digital screening and diagnostic mammography to ultrasound-guided breast biopsy and community breast health education resources. To schedule a mammogram and for more information about the Breast Center and its services, call 624-3209 or visit www.kaweahdelta.org.