A Press Release from Kaweah Delta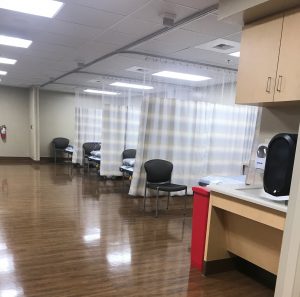 VISALIA – As work continues on its project to nearly double the size of one of the busiest emergency departments in the state, Kaweah Delta added eight new beds to its emergency department this week and opened a new area that is helping patients seeking emergency care get quickly screened by medical providers.
"This is an important step in our efforts to modernize, expand and improve our emergency department to help meet the needs of our growing community," said Gary Herbst, Chief Executive Officer of Kaweah Delta. "We've opened up eight new beds in a new area adjacent to the emergency department for people with minor illnesses and injuries, but in doing so, we've made more beds and space available in our ED for patients who require a higher, more critical level of care. These beds are ultimately allowing our team to focus on caring for people who have true emergencies."
Kaweah Delta enlisted the help of its community to test out the eight-bed area known as Zone 6, prior to its opening and ran a series of mock trials, testing everything from care to processes to the patient experience. Meg Salinas, a member of Kaweah Delta's Patient and Family Advisory Council, was one of about 30 people who volunteered to be patients during the mock trials.
"These beds are going to help immensely to take off a lot of the overload in the emergency room. It will make things go much faster," said Salinas, who as a council member has learned when to go to the ED versus when to go to the doctor or an urgent care. "It's been really helpful for me because the more knowledge I have, the more I can help my family when they ask me whether they should go to the emergency room. I can help them and say, 'Let's go this direction instead.'"
After patients go through the ED registration process and the triage nurse takes their vitals, they enter a new Physician-at-Triage area. There, medical providers examine patients in this separate and enclosed space and order any labs, x-rays, or other tests a patient may need. Patients stay there for lab draws (the space has a TV and small waiting area), before heading back out to the ED waiting area until the team has the results to determine the next course of care. When Kaweah Delta's ED expansion is complete, lab services will move from the basement to this area.
Also with the opening of Zone 6, Kaweah Delta's former ED security weapon screening has moved to the Mineral King Wing near the Guild Courtyard gift shop. This allows Security Services to screen more people entering our Mineral King Wing, not just the ED, and adds another layer of security for Kaweah Delta patients and visitors.
Kaweah Delta's ED is undergoing a multi-phase expansion that is expected to be complete in 2020. It will modernize, expand, and improve Kaweah Delta's ED facilities to better serve patients and meet the needs of the growing community by:
Growing the number of patient beds from 41 to 74 beds
Nearly doubling the size of the waiting room to accommodate 100+ patients
Adding a new area that will allow patients to be more quickly screened.
Kaweah Delta is a level III trauma center- the only trauma center between Bakersfield and Fresno. Its ED was built to serve 72,000 patients a year, but today, staff cares for more than 90,000 patients a year. Kaweah Delta has added a patient navigator to the ED who makes sure that patients are getting the care and information they need. In addition to answering questions and helping patients understand the process of care in the ED, the patient navigator, a Licensed Vocational Nurse (LVN) can also monitor patient vital signs. Kaweah Delta has also made changes to ensure that after patients are seen by a registered nurse upon arrival and have vitals taken by an ED technician, they are seen by a doctor within 30 minutes of arrival so that any needed tests can be ordered.
Kaweah Delta continues to offer free valet parking services from 9 a.m. to 9 p.m. on weekdays and 11 a.m. to 7 p.m. on weekends at the ED entrance off Mineral King Avenue.
When people do not require emergency care, they are encouraged to visit an urgent care facility or a walk-in clinic. In addition to the ED, Kaweah Delta operates the following locations, where patients can see real-time wait times and reserve their spot online at www.kaweahdelta.org:
Kaweah Delta Urgent Care: 1633 S. Court St., Visalia, 624-6090
Hours: 8 a.m. to 10 p.m. daily
Kaweah Delta Urgent Care: 3600 W. Flagstaff Ave., Visalia, 624-6800
Hours: 8 a.m. to 8 p.m. daily
Sequoia Prompt Care: 1110 S. Ben Maddox Way, Visalia, 624-5800
Hours: 8 a.m. to 7 p.m., weekdays; 8 a.m. to 5 p.m., Saturdays; 9 a.m. to 2 p.m. on Sundays (Closed on Christmas and New Year's Day).
Visalia Medical Clinic's QuickCare: 5400 W. Hillsdale Ave., Visalia, 738-7555
Hours: 8 a.m. to 7 p.m., weekdays; 8 a.m. to 5 p.m. on Saturdays; 9 a.m. to 2 p.m. on Sundays
If you do not have a physician and need one, a same-day appointment may be available by calling:
Visalia Family Medicine Center: 202 W. Willow Ave. (5th floor), Visalia, 624-4820
The following conditions/injuries (not an exhaustive list) can be treated at Kaweah Delta Urgent Care, Sequoia Prompt Care, or Visalia Medical Clinic's QuickCare:
Fever or flu symptoms (cold, sore throat, cough)
Sprains, broken bones
Mild asthma/breathing difficulties
Abdominal pain
Cuts (minimal blood, stitches or staples)
Ear infections
Vomiting, diarrhea or dehydration
Animal bites
Urinary tract infections
Bronchitis
Burns or chemical exposure
Infected wounds
The following conditions/injuries should be treated at Kaweah Delta's Emergency Department:
Heart attacks/strokes
Uncontrollable severe bleeding
Sudden or severe pain
Coughing blood or vomiting blood
Severe breathing difficulties
Sudden dizziness, weakness or vision changes
Severe vomiting or diarrhea
Changes in mental status/confusion
Open bone fractures
If you are experiencing any of these conditions, please call 911 immediately.
Kaweah Delta is a publicly-owned community healthcare organization that provides comprehensive health services to the greater Visalia region and Tulare County. With over 5,000 dedicated medical professionals and employees, Kaweah Delta is committed to meeting the community's health needs through state-of-the-art medicine, high-quality preventive services and specialized health centers and clinics. For more information, visit www.kaweahdelta.org.
#