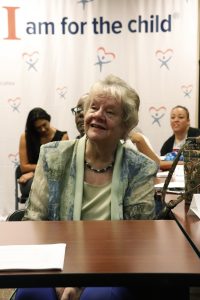 Although placing a child in the foster care system is the last resort for social workers, it does happen when the child is in an unstable or abusive home environment. In this instance, the foster child could be assigned a Court Appointed Special Advocate.
CASA is a non-profit organization founded in an effort to advocate for the safety and well-being of children in foster care. Advocates are meant to represent the child's best interests and voice in court.
CASA of Tulare County works specifically with local foster youth cases and have offices in Porterville and Visalia.
Superior Court Judge David Soukup of Seattle, WA, founded CASA in 1977 after feeling worried he was not receiving enough information to make educated decisions about the foster cases that came across his desk.
According to the CASA website, "To ensure he was getting all the facts and the long-term welfare of each child was being represented, Judge Soukup came up with an idea that would change America's judicial procedure and the lives of over a million children."
A judge must recognize and appoint a CASA volunteer to a child's case in court. Once a volunteer has been assigned to a case, they are meant to advocate for that child's welfare. Volunteers will maintain only a few cases at once as they take a great deal of time investment.
"This is our most defenseless population. We are taking part in caring for these kids because there is no one else to care for them," Alberto Ramos, CASA of Tulare County Associate Director, said.
Volunteers are encouraged to meet regularly with their child in order to form a strong bond with them. This shows the child that they are a safe and reliable adult, Ramos tells the new volunteers. Maintaining an open stream of communication is key in a CASA partnership.
CASA of Tulare County recently started a new round of training for volunteers. The application and training process lasts around five weeks. In this process, CASA takes the time to ensure their volunteers are informed and qualified to properly address the issues in their assigned cases.
The trainings are every Tuesday, Thursday for three hours. Each week a different speaker comes to talk on issues the volunteers might face in their cases. A few training topics listed on the CASA of Tulare County website are, "The needs and development of children and youth, understanding families, establishing boundaries, and court writing."
It would be difficult for CASA training seminars to cover all of the ins and outs of the court system, but the purpose of the training is to make sure they have a good base line to learn from in the future.
In addition to this, future advocates are required to complete two courtroom observations. This means watching another case unfold and learning from how the CASA volunteer handles it in court.
After the volunteer has completed their background check and 5-week training process, they will be sworn by the court promising to keep justice in mind and do what is best for the child.
Being an advocate is not always easy, "We have to separate what we think is best and what we want for the kids from what might be the law," Ramos later said during the volunteer orientation.
As volunteers grow closer to the child they are partnered with, their emotional attachment could interfere with what is best for the child.
Ramos explains that a priority of the foster system is to return the child to their biological family if possible. In some cases the foster family environment may provide the child with more socioeconomic opportunities, but they will still be returned to their biological family if the home is stable and safe.
In this case, Ramos says, it is important for a CASA volunteer to evaluate their role in the child's life and remember that they need to prioritize following the law while sufficiently supporting the child.
Having been an advocate himself, Ramos knows it can be difficult, and assures the volunteers there will always be other experienced supervisors at the CASA office in Tulare and Porterville available for consultation.
CASA does not receive public funding for each case they take on like other foster youth organizations. Instead, they rely on grant funds and volunteer assistance according to Executive Director Eric Johnson. A great deal of their funds goes to training volunteers and maintaining cases.
"We celebrate you because that means we can serve more kids. That also means we lose more money. But, we want to serve more kids because that's the moral thing to do. We want to be out of jobs by making sure every kid has an advocate," Johnson passionately said during the volunteer orientation.
Johnson explained to the new volunteers that he himself was a foster youth, and this is a driving factor in his passion for CASA. He hopes to help kids have a better experience in the foster system than he did.
Foster kids are sometimes pushed in and out of homes due to bad behavior. However, CASA has found that once they have a relationship with some of these at risk cases, the number of homes they leave goes down.
This could be attributed to the extra support coming from the CASA volunteer. By having regular meetings with the child, they are able to help them work through the issues that were contributing to negative behavior.
They will soon be starting a "street team" program for which they will need volunteers for according to Melissa Murphy, the Marketing Coordinator at CASA. This program could be an alternative for those who feel they are not equipped to handle a case. This team of volunteers will be working to spread information about CASA to the community through fundraisers and other events.
Since CASA relies so heavily on volunteers, they encourage anyone and everyone to apply and complete the process of becoming an advocate. As CASA continues to make a difference with foster youth in Tulare County, they need more help with the growing number of foster cases burdening the court system.
Trainings happen four times a year. The next training process will begin on October 8, lasting till November 14. Applications may be submitted any time and can be found online. Those who are interested are encouraged to email i[email protected], or call 559-625-4007 for more information.