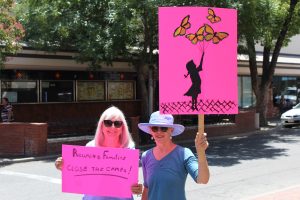 Protestors stood outside Representative Devin Nunes' office in Downtown Visalia on July 2 to protest immigrant detention camps.
"We're out here protesting the deplorable conditions these kids are being kept in," said Julia Jump-Doyal, a protestor.
She emphasized the importance of calling attention to the border camps.
The protest follows a call from MoveOn, a political advocacy group urging residents to use the Fourth of July weekend to gather at their representative's office. The slew of nationwide demonstrations is being gathered under the banner of #CloseTheCamps.
"It's become politicized," said Chris Polk, an organizer at the event. "Keeping kids in cages is directly against our American values and we need to remind some people of that," he said, gesturing to the top of the building toward Nunes' office.
Constituents and residents of neighboring districts alike stood united.
Many of the activists present at the event live in Three Rivers, which lies outside the district's boundaries.
"It's important to show up at these kinds of things and we can't get someone good to run against Kevin McCarthy. He's the House Minority Leader after all," said a protestor from Three Rivers.
As cars passed by, some honked in support of the protest. The activists clapped and raised their signs higher when they got feedback.
Not all were fully supportive of the event, though.
"I just think it's important to display all the real facts," said Steve Ray, a passerby. "It all depends on what people want to call a cage. Is it a cage just because the fence is chain link?" He did not seem to have decided on the issue, but Ray said he wanted to start a dialogue.
Some protestors arrived with signs and wore black shirts with "Antifascist" and the words "No Pasaran" in a logo on the shirt. They declined to comment.