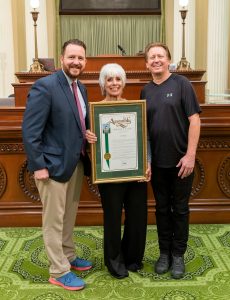 A Press Release from the office of Assembly Member Devon Mathis
VISALIA – Last month, Assemblyman Devon Mathis (R-Visalia) announced that V.I.P. Pizza from Tulare was awarded the 26th Assembly District's 2019 Small Business of the Year.
Founded in 1985, V.I.P. Pizza was originally guided by the late Joe Gregory, a partner in the business who continuously served as a strong contributor to the community, taking part in myriad fundraisers and promotions to help downtown Tulare and ensuring that V.I.P. Pizza was especially supportive of local youth sports programs.  When Joe Gregory passed away in 1998, he left his legacy of V.I.P. Pizza to his sister, Gloria McCauslin, and his brother, Clarence Gregory, who continue to give back to the community and provide financial support for youth programs and civic-minded organizations in Tulare.
"We open these awards up to the community to choose and the community over whelming spoke," said Assemblymember Mathis.  "V.I.P. Pizza not only lives up to their name by making amazing pizzas, but also treating the community and customers as Very Important People!"
Small businesses play a critical role in supporting the economic well-being of the State of California by creating new business and employment opportunities and by bringing unique and innovative services and products to the marketplace.
"I take immense pleasure in congratulating V.I.P. Pizza and its owners, Gloria McCauslin and Clarence Gregory, on being selected as the 26th Assembly District's 2019 Small Business of the Year," said Mathis.  "I am proud to commend them for providing valuable services to the people of the local area, and applaud their history of community support."
"I am so honored to receive this award and if it wasn't for my staff and customers it would not have been possible," said McCauslin.