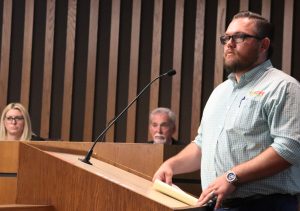 Concerned residents and county officials filled the room on June 25 as the Kings County Board of Supervisors voted on an interim urgency ordinance regulating the cultivation of hemp in Kings County.
Unlike in Tulare County where the supervisors passed a moratorium on the cultivation of hemp, Kings County took a more comprehensive look at the issue and approved an emergency ordinance for limited commercial hemp production.
The background information given to the supervisors stated, "The Kings County Agricultural Commissioner-Sealer reported that the hemp growing season is soon to be underway with most planting expected to occur within the next two to three weeks. While there are no known hemp plants in the ground as of June 20, 2019, at least two growers have disclosed their plans to plant between June 21 and 23, 2019."
According to information provided by County Counsel David Prentice and Juliana Gmur, "For these reasons, an urgency interim ordinance is necessary. This ordinance will allow the County to permit, monitor, and inspect the cultivation of hemp in the county and fill the regulatory gap, obtain information about the crop for future uses, and recover its costs."
Kings County Supervisors Doug Verboon, vocalized his support for the crop, recognizing its versatility in many different products. Industrial hemp serves as an ingredient in everyday products like clothing, lotions, oils, and paper. "I'm all for it," he said.
Agricultural Commissioner Jimmy Hook said, "There is an opportunity here to harvest a viable and profitable crop. So, they [The Board of Supervisors] wanted to allow farmers to experiment and learn from it so that it might do well in the future."
The board voted to adopt the interim urgency ordinance 5-0. It will be in effect until December 31, 2020, unless it's otherwise amended or repealed.
Specifically, the ordinance allows the agricultural commissioner to test levels of tetrahydrocannabinol (THC)— the chemical compound that produces psychoactive effects— before the hemp is harvested.
Farmers will also be limited to 1-acre of land per permit holder if hemp is being cultivated for research or educational purposes.
This differs from hemp being farmed for industrial purposes, As long as the farmer is following the restrictions outlined in their permit, and use a very specific seed, they can grow as much as they want. Verboon said there is a shortage of the specific seed that farmers are required to use when planting their hemp crop so he didn't see a problem. According to the supervisors, if a person is growing industrial hemp they must comply with state guidelines.  "California allows for a commercial hemp program overseen by the Industrial Hemp Advisory Board within the California Department of Food and Agriculture," According to California Food and Agricultural Code S81000 to 81010 (2016).
Those farming industrial hemp in the unincorporated area of Kings County must first register and obtain a permit.
According to the ordinance, "applicants must be the deed holder of the land upon which hemp is to be cultivated…… and must be located in General Agricultural Zone Districts (AG20, AG-40)." The ordinance also stated that hemp production must have a minimum of one-half a mile set back from any church, child daycare, school, youth oriented facility, and Residential Zone.
Dave Robinson, Kings County Sheriff, encouraged the board to adopt the ordinance so officials will have a base set of guidelines to follow when regulating it this growing season.
He also had concerns about theft that might affect growers as it is possible for criminals to mistake hemp for marijuana plants. Hemp looks similar to the marijuana plant but contains less than three-tenths of a percent of THC.
In order to ensure safety of hemp farmers and others, Robinson has added a fourth person to the Agricultural Crimes Task Force.
In September 2018, California Legislature changed the definition of industrial hemp and removed growing restrictions, citing, "this act removes barriers to the growth of industrial hemp as an agricultural product, and for agricultural or academic research."
The 2018 Farm Bill was signed into law last December. This bill, passed with bipartisan support, legalizes hemp on a federal level giving states the power to regulate it how they please.
Since then, the U.S. Department of Agriculture has been working to create quality control standards for hemp production. According to the National Institute for Food and Agriculture, "It is expected that the final [regulations of hemp] will be implemented by the end of calendar year 2019."
This means that until the USDA establishes a set of guidelines, counties are responsible for appropriately regulating farmers.
The California Department of Agriculture (CDFA) found a pressing need for regulations, "The absence of regulation." it stated, "could result in a potential direct loss of over $43,000,000 to California farmers."
The CDFA proposed regulations regarding sampling, laboratory testing, and destruction of industrial hemp in late May 2019, and the regulations must be adopted on a local level before they can be enforced.
Tulare County passed a temporary moratorium on the growth of hemp along with 15 other counties because of what they felt were incomplete regulations. Only San Luis Obispo and Imperial have approved the crop,
"Any time you have a new crop, there needs to be regulations," Hook added during the meeting. Hook, among other officials present at the meeting, have been concerned that the lack of regulations on hemp will result in it being unlawfully pushed into the market.
During public comment, many Kings County residents expressed their concern over the cultivation of hemp in residential areas.
While various community members were eager to see the ordinance put into place so residential areas are better protected, Kings County Farm Bureau executive director Dusty Ference said he felt the ordinance is rushed, and would benefit from more time under review.