A Press Release from the Visalia Fire Department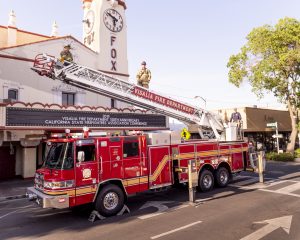 On Saturday, June 29, 2019, the Visalia Fire Department will host an Open House for the community to help us celebrate our 150th Anniversary.  The Open House will take place at Fire Station 55, located at 6921 W. Ferguson (corner of Ferguson and Shirk), from 10:00am to 1:00pm.  The event will include a large display of fire equipment, including several pieces of historical fire apparatus; demonstrations with the Jaws of Life (11:00am and 12:00pm); informational booths; a bounce house for the kids; a Taco Truck with food for purchase; and an opportunity to interact with your local Firefighters!
Your Visalia Fire Department was formed in 1869 and is one of the oldest fire departments in California.  We have a rich history of service to the community and pride in that tradition.  Today, the Visalia Fire Department is staffed with 82 men and women who provide full range of emergency services to our community.  Our department provides fire protection, paramedic level emergency medical response, a full service fire prevention division, a Type 1 Hazardous Materials Response Team, a Type 2 Technical Rescue Team, fire investigations and many other services.  Six strategically located fire stations provide 24 hour / 365 day coverage for our city.
We would like to encourage the community to come out on Saturday and help us celebrate our 150 years of dedicated service to our citizens.