Visalia mayor Bob Link was joined by vice president of logistics Patrick O'Connell, general manager of western North America and Chief Financial Officer Peter Andersen, employees and locals for the grand opening of Hilti's new distribution center in the Industrial Park in north Visalia early Wednesday, June 19.
Hilti is a multinational corporation that was founded by Martin and Eugen Hilti in Shaan, Liechtenstein in 1941. They specialize in producing products for the construction, energy and manufacturing industries, including powder-actuated fastening, drilling and demolition, diamond cutting and coring, laser measuring and detection, and firestopping. 28,000 are employed worldwide including more than 3,500 in the United States alone.
The mayor began the ceremony by sharing his appreciation for Hilti's growth and contribution to the local economy.  O'Connell followed with a message to the employees: "It's all about the team. This is for you guys. We stayed here in Visalia for the location and also for the community."
Peter Andersen added some technical details, detailing Hilti's growth of 12% over the last year and strategies to continue growth toward a benchmark in 2023. Andersen also mentioned the addition of software products to the Hilti repertoire, giving the company an edge over many hardware-producing competitors.
The solidarity of the Visalia team was symbolized by the ribbon cutting itself: 30 pairs of scissors were passed out to all employees for a simultaneous slicing to the sound of jokes and laughter.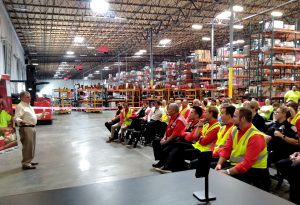 Regional manager Robert Rodriguez took over next, proudly offering a tour of the "flagship facility" in the west.  Manager Pablo Moreno and others continued the tour, showing off innovations in safety, efficiency and ergonomics.  Added docking bays and forklifts were among additions said to increase productivity and decrease employee fatigue. Rodriguez added that as employees are expected to work hard and top performers are rewarded systematically.
As business in Visalia grew over the years, Hilti experienced growing pains. Less than 10 years after starting in 1995 with a 32,000 square-foot warehouse, Hilti moved to a 45,000 square-foot location. Next, in 2014, the first Value Added Service Center (VASC) was added at a separate location. Now they have a 166,000 square-feet, combining warehouse and VASC, saving time and gas. "This will improve support of our continued sales growth while also delivering efficiencies for our customers and organization," said O'Connell. The new facility is at 50%-60% capacity so there is room to grow.
Corporate Events Manager Carla Biggs and O'Connell emphasized Hilti's philosophy for innovation. Suggestions are formally accepted from everyone involved. "We didn't employ a warehouse engineer. 99% of our ideas come from workshops with our everyday employees. All ideas are considered to produce optimal flow," said O'Connell.
For more information on any of Hilti's products and services, please visit www.hilti.com or call 1-800-879-8000.
Hilti isn't alone as Visalia's Industrial Park continues to grow . California Dairies, one of the nation's leading suppliers of butter, will be adding a new 8,550 square-feet dry goods storage building at its headquarters and processing facility on Plaza Drive in the Industrial Park.