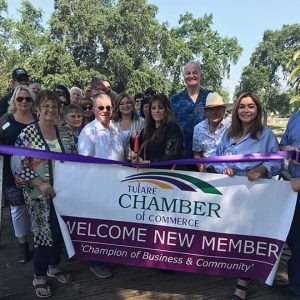 The Tulare Chamber of Commerce welcomed new member The Real Mooney Grove Project, Inc. at a ribbon cutting ceremony on May 30.
Hosted by founder and President Mary Bryant and sponsored by Samuel H. Hernandez of H & H Enterprises in Ivanhoe, the ceremony  took place on the Veteran's Freedom Bridge.
"When we joined the Chamber and started planning our ceremony  we had to decide a location," stated Bryant. "2019 is my five-year anniversary  starting and first incorporating the Real Mooney Grove Project  back in 2014, the 110th anniversary of the park, and the 100th Anniversary of the park's green arched pedestrian bridge.
Known as The Veteran's Freedom Bridge, Bryant said it was the obvious choice for the ceremony.
A sponsor, Samuel Hernandez, reserved arbor #1 to gather for coffee and refreshments before the ceremony and a BBQ after.
The Real Mooney Grove Project hopes to make the bridge, veterans memorial, concession, lily pond, concrete tables, fence around the park, lagoon and rowboats and Cutler Park future projects.
"I had  just finished the papers and filed for Federal 501(c)(3) non-profit exemption status about the same time joined the Tulare Chamber, "said Bryant. "Finally getting that done all myself, was a good reason for me to celebrate. Not an easy thing to do. The ribbon cutting ceremony was planned a month away I knew there was not a chance we could celebrate official non-profit. Normally it can take anywhere from six months to a year,  even longer to be approved," Bryant said.
"If papers are not correct or something is questionable or needs  clarification the papers are sent back which takes even longer to be approved. I  was totally shocked when  I received  the papers  approved 24 days after I filed . My first thought reading the papers was no way, I must be reading this wrong. To be  approved in just 24 days, that's like totally unheard of ."
Attending was Visalia Mayor Bob Link and City Councilman Brian Poochigian.
"To have the Mayor and Councilman attending our ceremony  is an honor and shows support," she said. Also attending was Timothy Carothers from Assemblyman Devon Mathis office who presented a Recognition of Accomplishment certificate.
Bryant said she personally invited all five county supervisors and  Director of County General Services John Hess, though none attended.
"It has always been our goal to work with the county to restore and repair Mooney Grove. And although no one from county attended I believe we may now see hope we will be able to work together. We have started to see some cooperation and have a scheduled second meeting with General Services for June 13," said Bryant. "Our mission statement was written  'organized to erect, maintain and restore historic Mooney Grove Park and all public park buildings, monuments , works or acts.'"
For more information, or contractors interested in bidding for projects, email [email protected] or call The Real Mooney Grove Project at 559-586-3985.