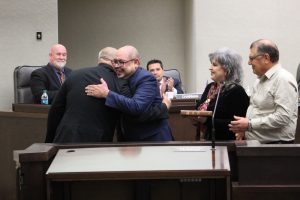 The Tulare County Board of Supervisors swore in two new members on January 8, Eddie Valero for District 4 and Dennis Townsend for District 5.
After taking their oath of office each new supervisor addressed the room. Townsend spoke on his experience on the road to the election. "When I started campaigning about a year and a half ago now, people would ask, 'What does it feel like?' and I said, 'surreal.' I feel like today is the culmination of that," he said.
During the campaign, Townsend cited his mother, campaign manager, but most of all, his wife Cece, as positive influences and sources of support. Townsend will represent the Porterville, Springville, and Terra Bella communities and replaced Supervisor Mike Ennis, who retired.
As an Orosi native, Valero garnered a lot of support from the communities within the district. "My hometown believed in me before I believed in myself."
Valero returned to his hometown from an Ivy League education and a potential university teaching career to help Tulare County. Since his return, he was elected to the Orosi School Board and found himself as president of the board for two years. Valero also began the Young Men's Initiative which helps develop young men from single or divorced families in the Cutler-Orosi area into leaders.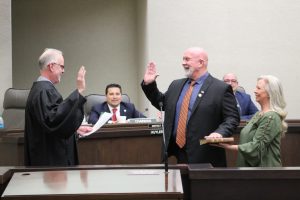 "I realized that service for others is better than service for self," said Valero. As a supervisor, he wants to focus on water, public safety, and fiscal responsibility.
Valero takes over Supervisor Steve Worthley's seat. Worthley also retired. His district represents the communities of Dinuba, Cutler, Orosi, and Goshen. Valero beat Kuldip Thusu, then Vice Mayor of Dinuba, in a surprise victory in the June primary.
The new supervisors took their spot upon the dais with fellow Supervisors Kuyler Crocker, Pete Vander Poel, and Amy Shuklian.
In other business, Supervisor Crocker was elected chair of the board and Supervisor Vander Poel was elected vice chair. The board then congratulated Tim Ward, Mike Boudreaux, and Tim Hire on their respective election victories for District Attorney, Sheriff, and Superintendent of Schools.
Supervisor Shuklian acknowledged the Christmas Day fire in downtown Visalia and said the Workforce Investment Board is working with the displaced employees to find them work.
The board also recognized that Visalia is being highlighted on C-SPAN the weekend of February 2-3.
According to Suzanne Bianco, Tourism Marketing Director, "They will be touring town, interviewing locals and filming historic and non-fiction literary sites for their 'Book TV' and 'American History TV' series. We are really excited for this opportunity to showcase Visalia on a national stage as part of the 'Cities Tours' programming."