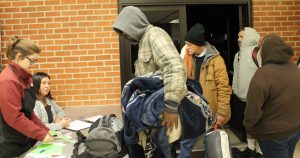 The warming center at Visalia's St. Paul's Episcopal Church at 1415 W. Center opened Wednesday night at 9pm. About a dozen homeless seeking shelter from the cold were served.
Last year's opening night served one person but eventually grew to around 90 people on the coldest nights.
Staff member Christy Bergen claimed that volunteer numbers were low, a consequence of late recruiting. Typically the link used to gather volunteers would have been up and running a month before the warming center opened. However, the appeal made by Dr. Wayne Wundrum last week delayed the link from going up.
Although this was a point of concern, staff members like Bergen were more concerned about being "neighbor friendly." The special meeting held December 19 for the appeal against the warming center demonstrated a significantly negative sentiment from the community living in the area.
In an attempt to prevent further grievances, CSET will be providing clean-up services in the block surrounding the warming center and security will be patrolling areas where neighbors have filed complaints.
As the warming center's doors opened, those seeking shelter entered the church and lined up at the volunteer desk. Homeless turned in their things and were given a wristband that correlated with their belongings. They were then given mats and blankets to keep them comfortable.
Homeless grabbed a cup of hot coffee or snacks and settled themselves in for the night. Empty dog crates lined one of the walls in case anyone brought their furry companions.
Tracy Allen had gone through Suzy Ward's warming center once before and tried a local men's shelter as well. He prefers the environment provided by Ward, stating that the men's shelter was "intense" and "stressful".
Rescue missions like the men's shelter Allen participated in are notorious for their long list of strict rules. Such establishments can be frustrating for someone struggling with homelessness.
"Suzy and her husband are very nice for opening up their doors," Allen said. "And they're giving us mats, blankets, and snacks. It's very nice. The atmosphere is not intense. Very relaxed. [I] feel comfortable here."
As 10:30pm rolled around, the front doors closed and participants were no longer allowed to exit the warming center. Participants could still enter, but no one was allowed to leave until morning.
Despite the coffee and sugary snacks given to the participants, Ward's warming center quickly grew silent, except for the cacophony of snoring. As the night progressed however, it became clear that some had underlying conditions such as sleep apnea and mental health disorders that made it difficult to sleep.
Late into the night, a man broke the relative peace by tossing a bar of soap across the room for no apparent reason. One woman by the name of Sonya, went through a period where she would abruptly break into laughter. She wore a hospital bracelet and carried paperwork with her personal belongings implying that she may have recently been admitted at a medical institution.
Bergen stated that some of the homeless with mental health issues are released back onto the streets from hospitals without treatment because hospital mental health wards refuse to admit patients who are under the influence. A system she described as "broken" that has lead to the death of homeless individuals like Linda Mae Mudge, 45, a schizophrenic who was shot in the back one night while she was alone on the streets.
The warming center anticipated a need for such individuals and has mental health services and crisis workers at hand to aid incoming participants. Other services on hand will include flu shots, medical aid, and permanent housing navigators through the Kings-Tulare Homeless Alliance.
Luckily, there was no need for any serious intervention the opening night and everyone slept relatively undisturbed. The sun eventually rose, participants were asked to leave, and everyone, including the volunteers, went on their groggy way.
The warming center is a temporary solution and is expected to run until March 1st. A more permanent site is underway at a location yet to be determined.
If the community wants to help make the nights a little smoother for the participants add earplugs to your list of donations. To volunteer go to https://timecounts.org/ktha/events/10463
For questions about donations call Christy Bergen: (559) 356-9526 or contact Suzy Ward (559) 967-4065