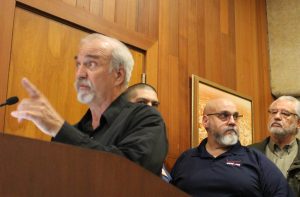 The Visalia Planning Commission held a special meeting last week regarding the temporary warming center planned to open at St. Paul's Episcopal Church at 120 N. Hall after an appeal made by Dr. Wayne Wundrum.
Wundrum and other neighbors had concerns regarding safety and sanitation in the surrounding area, a consequence of last year's warming center. Despite many emotional testimonials and over two hours of public comment, the planning commission denied the appeal.
The Warming Center is scheduled to open today.
Concerned community members attempted to file into City Hall and extra chairs were brought from storage. Many were still forced to stand or stand outside.
The planning commission began by explaining the purpose of the warming center as a place for homeless to stay the night. The shelter would not have beds or full meals, but blankets and snacks would be provided.
The warming center is considered a "low barrier" shelter, meaning drug tests would not be required and anyone could stay the night as long as they were not a threat to themselves or others. Families, couples, and pets would also be welcome.
The commission laid out the conditions pertaining to the temporary use permit. The most worrying of the conditions for those in favor of the center was the temperature restriction. The restriction only allows the warming center to operate on nights forecasted to be 35 degrees or below. This makes it difficult to determine when the warming center would be open.
However, as the meeting shifted to public comments, it became clear that many members of the community were more concerned about preventing the warming center opening at all.
Wundrum, whose office is directly across from St. Paul's, summed up the neighbors' concerns.  
He stated that he was sympathetic to the homeless community, but was more concerned about the sanitation and safety impacts the warming center would have on the immediate area. Wundrum listed suggestions that would lessen that impact of a shelter such as additional trash bins with locks to prevent dumpster diving, 24-hour security to the premises, and relocating the warming to center to a different location.
One by one, other concerned neighbors shared personal stories pertaining to last year's warming center. The complaints ranged from nonviolent transgressions such as public defecation and house/car break ins, to altercations with the police and even murder.
Steven Montion, a military veteran and life-long resident of the area, held up a photo of his neighbor Darrell James Heinrichs who was shot dead last year by a homeless person—50 ft. from Montion's house. Heinrichs was described as a man with a heart of gold, who was kind, fed people, and gave money out of his own pocket.
Montion went on to condemn the warming center for what it's done to his neighborhood.
"These homeless people that ya'll have compassion for, they're criminals. They're drug addicts…And the police department's hands are tied…We didn't have these problems until last year."
One of his biggest concerns was the safety of his children, who were less than 100 ft. away when his neighbor was shot multiple times. Montion said the warming center closes its doors around the same time children go off to school in the morning, which he claims poses a major threat to kids in the neighborhood.
Mothers, fathers, worried businessman, and outraged community members who all shared personal stories and negative encounters as a consequence of the warming center's presence. More than once, chairperson Brett Taylor was forced to cut a speaker short in order to make time for the growing line of discontented commenters.
Gary Mudge took the microphone and changed the tune. A husband and father, Mudge spoke of his deceased daughter, Linda Mae Mudge. He spoke of her mental illness, how she became homeless, and of her untimely death.
"My daughter was murdered. Shot in the back with a shotgun in the middle of the night. She was vulnerable of course. And defenseless, especially as a woman, alone…My original intention here, and still is, is to give an impassioned plea for help and services towards the homeless."
Mudge explained how all homeless, whether or not they suffer from mental illness, deserve a safe and warm environment during the coldest time of the year. He described St. Paul's as a "boon" to the homeless and that it has helped people survive the extreme cold and prevent illness caused by said drop in temperature.
In addition to Mudge's plea, there were a couple of success stories from former homeless persons who went through St. Paul's and eventually found permanent housing. According to one of the staff members at the warming center, the shelter finds housing for around 10 homeless each month of operation.
Reverend Suzy Ward, who is helping open the shelter, passionately defended the work St. Paul's has done and explained how the homeless issue was not going away.
"I'm sorry that it's in your backyard. I live in Santa Fe Trail. It's in my backyard too. But we all have to face the reality that this is an issue we have to deal with. And this is the best solution that we have…Yeah, we made mistakes. But we made a safe place for a lot people…These were mothers with children. We had a grandmother and a daughter and their child. We had husbands and wives that would've been separated in a regular shelter."
Ward stated that she tried other locations, but they were either too expensive or they simply would not help. And she said that when she approached other faith-based communities, "nobody else stepped up".
She also replied to the amendment requested by Dr. Wandrum about extra security, stating that most of her budget goes towards paying the one security guard's salary. Ward emphasized that she's done the best she could with her limited resources and asked when the city would start to take responsibility:
"I'm a small little church and I'm trying to take your responsibility. And I think you need to take responsibility too…I turn to you because if you don't start answering some of these questions like Michelle said, your jurisdiction is at risk."
Ward was referring to a statement made earlier in the public comment by Michelle Smith of the Kings-Tulare Homeless Alliance. Smith mentioned how other jurisdictions like Orange County have faced federal lawsuits for their poor treatment of the homeless population and that warming centers like the one at St. Paul's help protect the city from these costly consequences.
Vice-Chair Liz Wynn and commission Marvin Hansen both denied the appeal with commissioner Bret Taylor voting in favor. Commissioners Chris Gomez and Sarrah Peariso were absent.
Wynn in particular began by stating that it was a heartrending and awful decision to make. She claimed she was on both sides of the fence, but that the homeless issue was a national problem and that she would support the shelter:
"We need to try all methods possible to reach this population because we have four H.O.P.E. officers plus a mental health, and it's not enough."
Chairperson Brett Taylor was the only member of the commission to vote against the shelter. His biggest issue was the way in which the warming center was asking for its permits, claiming that the shelter should not be applying for temporary permits typically used for tree lots or haunted houses, when the homeless issue is clearly a permanent one and requires a more permanent solution.
The homeless task force made up of city and county officials is currently working on developing a more permanent site. The temporary shelter at St. Paul's is just a "stop-gap" used as a response to the drop in temperature.
The appeal made by Dr. Wundrum was denied 2-1 and the warming center will officially open the day after Christmas with a few amendments including no temperature restrictions and a mandatory 1 to 25 staff-to-homeless ratio. Security times will also be extended an hour on each end. And St. Paul's may be liable for any sanitation issues in the city block surrounding the church.
The battle is far from over.
The shelter's temporary permit can still be appealed by the public for a $500 fee and the appeal must be sent by December 31st at 5pm. If an appeal is filed there will likely be another vote in January to determine the warming center's fate once again. The appeal would be heard by the Visalia City Council.
Ward is actively accepting donations and volunteers. For now, she'll have to make the best of what she gets:
"We're operating on a lot of faith."