Redwood High School graduate and Visalia native Eric Peltzer has stepped onto the national art scene with his kinetic sculptures. After years of sculpting for private clients and accepting public commissions, Peltzer just dedicated his largest work yet, a 30-foot, three-ton kinetic piece outside Baltimore's University of Maryland School of Medicine.
Peltzer created the winning design for a competition put on by the Maryland State Arts Council, where 170 artists submitted proposals. Peltzer's sculpture was completed and installed in August of 2018 and was dedicated in October.
Called "Stochastic Interactions," the work represents the history and mission of the medical school.
"'Stochastic' is a term describing random processes related to genetics and molecular biology," said
Peltzer. "The sculpture is a meditation on scientific inquiry, the history of the medical school, and the activities of the new research center, where the sculpture is sited. This new facility, where the sculpture is placed, houses research into genetics and advanced medical imaging."
Peltzer said the sculpture is anthropomorphic and relates to the human form and the investigations into the inner workings of human biology from the macroscopic down to the molecular level.
The two upper pieces of the sculpture move and represent individual genes, and the future of medical research into unlocking the specific functions of the genome.
Peltzer's artistic path
Peltzer didn't set out to be a sculptor when he left for college, "I somehow thought I would be an engineer or a physics major, so didn't really consider art as a career. I'm sure I'd never met a professional sculptor until then so it would be hard to imagine that as a career."
Peltzer studied with and worked with noted kinetic sculptor George Baker at Occidental College beginning in 1981. Through his mentor he learned "that sculpture could be a combination of art and engineering and construction. Also I just like heavy machinery. There are a lot of construction toys involved in making sculpture."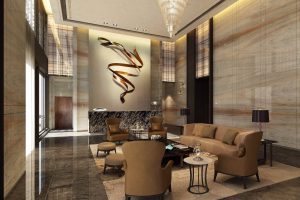 His first public art commission was in 1997 in Visalia when he won an open competition to create a sculpture for the newly remodeled Gottschalks. That statue still stands, in front of Macy's, facing Mooney Boulevard.
He has since made sculpting his life's career and works out of his studio and home in the foothills above Pasadena with his wife and two children. But Tom and Marsha Peltzer, Eric's parents, still live in Visalia and are their son's biggest fans.
Ms. Peltzer said their first indication that their son had an artistic bent was when he asked if they didn't mind if he painted a mural on his bedroom wall. The mural was inspired by the Lord of the Rings Dark Tower. "I really hated selling that house, said Ms. Peltzer, "but I took a lot of pictures."
In the end it was Visalia's own Green Acres Middle School art teacher, Mr. Ault, that planted the seed.
"I did a lot of drawing and some painting when I was younger, but never really thought about sculpture at all. Or if I did I suppose I thought of it as mostly figurative bronze castings which probably at that time I found not that interesting and maybe a bit old fashioned. I remember having some great art classes in jr. high and high school. Delmar Ault at Green Acres Jr. High was one of my early teachers and I had a wonderful experience in his classes."
So what's next?
"I actually just won another commission up in Sonoma County for the town of Windsor, near Santa Rosa," said Peltzer. "It's for a 25-ft-high wind sculpture, but I haven't started making it yet. It should be finished sometime in 2019."