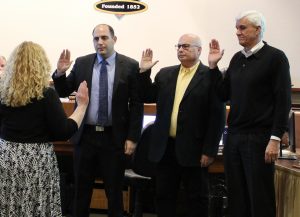 The Visalia City Council got a little younger but lost a little hair after the swearing in of its newest member, Brian Poochigian, at the December 10 Visalia City Council special meeting.
36-year-old Poochigian was sworn in alongside Greg Collins and Steve Nelsen, both of whom were returning members. Collins and Nelsen's challengers for District 4 and 5 respectively withdrew or didn't qualify and the two members were appointed in-lieu of election.
Poochigian beat out two challengers in the November 6 election to take his District 3 seat on the council.
After the city council voted unanimously to certify the results from the Tulare County Registrar of voters, Mayor Warren Gubler addressed the council with farewell remarks and reminisced about his mayorship.
"I will tell you that the best part of this job is meeting people," said Gubler. "I believe that all politics are local."
Gubler also rattled off a list of the city's achievements under his leadership which includes the Visalia Senior Games, building miles of walking trails, and the construction and expansion of Riverway Sports Park among many other program implementations.
In homage to Gubler's days as a Boy Scout, Councilmember Bob Link presented the outgoing mayor with a "big boy" knife on behalf of the council as a parting gift. The city also bestowed upon Gubler a street sign with his name on it.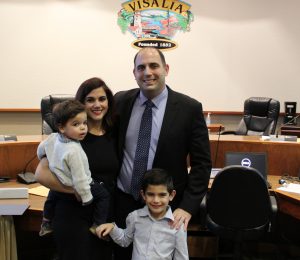 Before he surrendered his seat, Gubler gave the other council members two pieces of advice. "It is your job as a council to… listen directly to the citizens," said Gubler. "Secondly, be careful… look at what is best for the city as a whole."
As Gubler was leaving, Collins praised his aptitude for the job. "I've served with many mayors over the years, and I'd have to put Warren right at the top," said Collins.
Gubler then took a seat among the regular citizen as Collins, Nelsen and Poochigian took the oath of office.
The meeting did not end without a little contention. After Poochigian took over Gubler's seat on the dais, Councilmember Phil Cox suggested the mayorship rotate yearly instead of the current two year term. His suggestion was quickly shut down by Nelsen. The council then unanimously voted Link and Nelsen to the position of Mayor and Vice Mayor respectively.